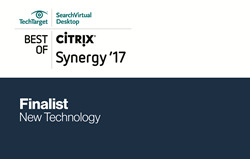 Recognition as one of the Best of Citrix Synergy 2017 award winners validates the demand among I&O leaders for virtual digital workplace performance management solutions like Login PI that prioritize the end-user experience.
Boston, MA (PRWEB) May 31, 2017
Login VSI, the industry leader in digital workplace performance management solutions for virtualized desktops, announced that Login PI 2.0, with its unique Virtual User Technology, was named a finalist as part of the Best of Citrix Synergy 2017 awards. Login VSI debuted and demonstrated Login PI 2.0 at #CitrixSynergy held in Orlando, May 22-24, 2017.
The Best of Citrix Synergy 2017 awards cover the following five categories of the end user computing market: application, data and network security; desktop and application delivery; storage, networking and infrastructure; new technology; and best of show. As part of the award program, Login PI 2.0 was named a finalist in the "new technology" category. Products considered as part of the program were reviewed and evaluated according to innovation, value, performance, reliability, and ease-of-use by an independent team of judges consisting of experts and editors from TechTarget's SearchVirtualDesktop.com TM, a leading source of features in-depth articles, tips and news related to today's evolving desktop virtualization market.
"Recognition as one of the Best of Citrix Synergy 2017 award winners validates the demand among I&O leaders for virtual digital workplace performance management solutions like Login PI that prioritize the end-user experience," said Eric-Jan Van Leeuwen, CEO of Login VSI. "We're honored to receive this distinction and would like to congratulate all of the finalists recognized as part of the awards program."
Login PI's virtual user provides 24/7 predictive data for both network latency and logon details to ensure applications are always operating at peak efficiency. Login PI provides intuitive insights through an innovative approach capable of simulating the behaviors and workflow of users operating in a real desktop environment; causing no impact to enterprise productivity. To further leverage these findings, system administrators can run data through a predictive analytic engine to understand and predict where application performance issues will occur; resolving issues before they occur.
For more information about Login PI 2.0, visit the Login VSI blog:
https://www.loginvsi.com/blog/login-pi/751-8-reasons-to-choose-login-pi-for-digital-workplace-performance-management
About Login VSI
Login VSI provides predictive and advanced insights for virtualized desktop and server based computing environments. Our software ensures Enterprises can provide their employees with the optimum end-user experience. By utilizing virtual users that mimic real-world users performing real-world tasks— predictive analysis will increase productivity while minimizing downtime and other costly business disruptions. With minimal configuration, Login VSI products work in VMware Horizon®, Citrix XenDesktop and XenApp, Microsoft Remote Desktop Services (Terminal Services) and any other Windows-based virtual desktop solution. Visit http://www.loginvsi.com for more information.
About SearchVirtualDesktop.com
SearchVirtualDesktop.com is the premier source for information on desktop virtualization, application virtualization, and VDI. The site provides in-depth technical advice and information on the products, services and business strategies that can lead to successful implementations of desktop virtualization technologies in your organization. Access unbiased news analysis, a library of essential tips, informative learning guides, white papers and more -- all created in an effort to arm you with the tools and tactics you need to do your job successfully and make the right desktop virtualization technology decisions.
About TechTarget
TechTarget (Nasdaq: TTGT) is the global leader in purchase intent-driven marketing and sales services that deliver business impact for enterprise technology companies. By creating abundant, high-quality editorial content across more than 140 highly targeted technology-specific websites, TechTarget attracts and nurtures communities of technology buyers researching their companies' information technology needs. By understanding these buyers' content consumption behaviors, TechTarget creates the purchase intent insights that fuel efficient and effective marketing and sales activities for clients around the world.
TechTarget has offices in Beijing, Boston, London, Munich, Paris, San Francisco, Singapore and Sydney. For more information, visit techtarget.com and follow us on Twitter @TechTarget.
TechTarget and the TechTarget logo are registered trademarks. SearchVirtualDesktop.com and is a trademark of TechTarget. All other trademarks are the property of their respective owners.