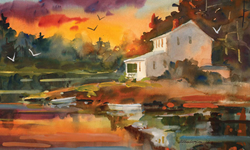 LINCOLN, R.I. (PRWEB) May 31, 2017
Amica Insurance's corporate communications team was recently honored as part of the Horizon Interactive Awards, a leading international interactive media awards competition.
The team earned a Best of Category Award for the 2016 Thanksgiving ecard in the Email/Ecard category. The 2016 Thanksgiving print card was also recognized with a Gold Award in the Print Advertisement/Promotional category.
"Our 46-year tradition of thanking our customers at Thanksgiving with a card is very special to us – it's one of the things that makes us unique," said Vince Burks, communications director at Amica. "To be recognized for our work internationally – for both the ecard and the print card – affirms its distinctive value."
The 15th annual international competition saw more than 1,200 entries from around the world, including 40 U.S. states and 20 countries. An international panel of judges, consisting of industry professionals with diverse backgrounds, evaluated categories ranging from online advertising to mobile applications.
The 2016 winning entries showcase the industry's best interactive media solutions, including websites, mobile applications, print media, interactive displays, public exhibits, online advertising, video, email and more.
"The 2016 competition represents an outstanding execution of industry trends in terms of strategic online solutions and integrated campaigns through multiple media," said Mike Sauce, founder of the Horizon Interactive Awards. "Many of our top award winners have continued to stay on the cutting edge of technology while maintaining the high bar for visual design."
About the Horizon Interactive Awards
In its 15th year, the Horizon Interactive Awards was created to recognize excellence in interactive media production worldwide. Since 2001, the competition has received tens of thousands of entries from many countries around the world and nearly all 50 U.S. states. Each year, those entries are narrowed down to the "best of the best" to be recognized and promoted on an international stage for their excellence. The judging process involves a blend of the Horizon Interactive Awards advisory panel, an end user panel and an international panel of volunteer judges consisting of industry professionals. Winning entries have been dubbed the "best of the best" in the interactive media industry.
About Amica Insurance
Amica Mutual Insurance Co., the nation's oldest mutual insurer of automobiles, was founded in 1907. The company, based in Lincoln, Rhode Island, is a national writer of auto, home, marine and umbrella insurance. Life coverage is available through Amica Life Insurance Company, a wholly owned subsidiary. Amica employs more than 3,700 people in 44 offices across the country. For more information, visit Amica.com.
Media inquiries can be sent to MediaCenter(at)amica(dot)com.
Amica Media Center
Twitter: Amica
Facebook: Amica Mutual Insurance Co.