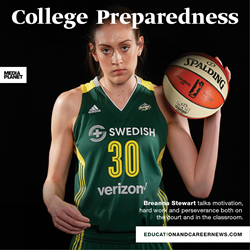 This campaign will educate on the high school years where prep and planning for a higher education pursuit is crucial for positive outcomes.
New York, NY (PRWEB) May 31, 2017
As the class of 2021 receives their college acceptances this spring, we reflect on the rigorous effort these students and their families have put towards getting to the high school finish line and embarking on the college starting line. This campaign will educate on the high school years where prep and planning for a higher education pursuit is crucial for positive outcomes; ultimately increasing the college success rate for classes to come.
The print component of "College Preparedness" is distributed within today's edition of USA Today in New York, Boston, Philadelphia, Washington D.C./Baltimore, Houston, and San Francisco markets, with a circulation of approximately 250,000 copies and an estimated readership of 750,000. The digital component is distributed nationally, through a vast social media strategy, and across a network of top news sites and partner outlets. To explore the digital version of the campaign, click here.
College basketball star, Breanna Stewart shines on the cover of the print publication. Through an exclusive interview on the interior, Breanna reveals how she was able to juggle her academics and athletics, proving that it was a balancing act that she had to master to be successful. She admits, "During my freshman year, midway through the season, I was struggling to play at the level I wanted to." –this type of struggle students face each day, whether in the classroom or court; inspiring us to provide tools and information to help prepare them to tackle any obstacle in their way.
A college education has a greater return on investment for a graduate in the United States than any other nation. While navigating the road to higher education can be grueling and taxing, this campaign will inspire a call to action amongst parents, teachers, and counselors to set a plan for college success.
This campaign was made possible with the support of the National Association of College Admissions Counseling (NACAC), National Association of Student Financial Aid Administrators (NASFAA), HER CAMPUS, American Gap Association (AGA), American School Counselor Association (ASCA), Advantage Testing, College Transitions, Barron's Educational Series, College Ave, Carpe Diem, Allianz Tuition Insurance, Magoosh, and Zenith Tutoring.
About Mediaplanet 
Mediaplanet specializes in the creation of content marketing campaigns covering a variety of industries. We tell meaningful stories that educate our audience and position our clients as solution providers. Our unique ability to pair the right leaders with the right readers, through the right platforms, has made Mediaplanet a global content marketing powerhouse. Our award-winning stories have won the hearts of countless readers while serving as a valuable platform for brands and their missions. Just call us storytellers with a purpose. Please visit http://www.mediaplanet.com for more on who we are and what we do.
Press Contact:
Alexandra Flecha-Hirsch
alex.flechahirsch(at)mediaplanet.com
(646) 979-2835