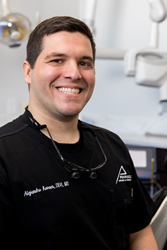 Longview, TX (PRWEB) May 31, 2017
Dedicated to patient care, Dr. Alejandro Kovacs recently attended Course II of the HP3 (High-Performance Periodontal Practice) continuing education (CE) course. Accomplishing over 10,000 hours in continuing education, Dr. Kovacs, a periodontist in Longview, TX, frequently furthers his education in order to provide leading-edge and compassionate care. Dr. Kovacs specializes in providing dental implant solutions and laser gum surgery using modern technology at his practice, Pinnacle Implants & Periodontics.
A key skill in offering effective, custom care as a periodontist is communication. Asking the right questions and creating an open and comfortable environment is essential to connecting with patients and crafting a personalized treatment plan. To this end, Dr. Kovacs is part of the 12-month HP3, High-Performance Periodontal Practice, program. This educational series takes place at the Pankey Institute, a highly-regarded organization in the dental industry that has been dedicated to dental education for the last four decades. The instruction in the HP3 courses offers real-world applications of best business practices to put patients at ease, ascertain their goals and discover their unique communication styles for ultimate patient satisfaction.
Applying this information at his practice, Dr. Kovacs is passionate about offering truly custom dental implant treatment. Before determining the tooth replacement solution that is right for each patient, Dr. Kovacs and the team at Pinnacle Implants & Periodontics form a relationship with each patient and determine their individualized needs. Frequently preferred by patients for their exclusive benefits, dental implants offer permanent reliability, healthy jaw bone growth, a complete smile and restored oral function.
Those interested in scheduling an appointment with a periodontist in Longview, TX on the cutting edge of his field, can call 903-758-3329. More information on the services that Dr. Kovacs offers is available on his website at http://www.pinnacleperio.com.
About the Doctor
Pinnacle Implants & Periodontics offers comprehensive periodontal care for patients in Longview, TX. Dr. Alejandro Kovacs is a Diplomate of the American Board of Periodontology, the American Board of Prosthodontics as well as the International Congress of Oral Implantologists. As one of only a few dual-specialized clinicians in the nation practicing as a periodontist and prosthodontist, he offers cutting-edge services including dental implants, laser gum disease treatment, gum recession care and full mouth reconstruction. To learn more about Dr. Kovacs, his team or the services they offer, visit http://www.pinnacleperio.com or call Pinnacle Implants & Periodontics at 903-758-3329 to schedule a personalized consultation.