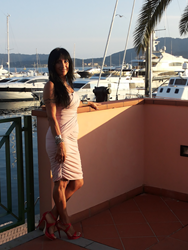 Iris Vignola to publish book on Italian Fairy Tales
Staten Island, New York (PRWEB) May 31, 2017
Boulevard Books Author Iris Vignola ventures into children's fiction. In the Fantastic World of Fairy Tales is her collection of twelve stories for children and for those who still love dreaming, published in two different editions, with various illustrations. The first fairy tale, the Veiled Princess, was the theme of the first theatrical performance of "La Maison de la Danse Academy", founded and directed by her daughter, Emmanuelle Ricco. Not long ago, her book, enriched with new illustrations, created by the author, in collaboration with her grandchildren and in Italian and English versions, will be published by Boulevard Books, Staten Island, N.Y.
Her first poem, "A mia madre" is included in the anthology of poets "Poems for a Mom" published by the publishing house Il Tigullio. Her poetry books, edited by Irda Edizioni, are published in various web channels, the first written in four hands with the poet Horion Enky "Unico Amore" - "Non sogno e non realtà" - "Dinanzi a me, c'è solo il mondo".
Soon, two new poetry books will be published by Irda Edizioni, from the titles: "Mi voltai... e vidi quel fiore" and "Streghe, Folletti e Fate, filastrocche magiche e favole incantate", written in four hands with the poet Horion Enky, who is currently making the final text of his fantasy trilogy "La Stirpe di Luce - La scelta di Asaliah", the first, was recently edited by Boulevard Books in the Italian and English versions "Dynasty of Light - Asaliah's Choice" and published on major Web channels, including the American Barnes & Noble channel.
Some of his lyrics are found in various anthologies of various poets, realized only for charitable purposes: "E ora... ti racconto una favola" Ed. I Rumori dell'Anima, February 2015, Various Authors.
Five of their nursery rhymes are included: "Cos'è quello?, Guarda, Le stagioni disubbidienti, Magico libro, Sirena".
Iris Vignola is the author of The Dynasty of Light, a fantasy novel published by Boulevard Books.
Boulevard Books is an educational publishing company founded in 2010 by educator and author Avi Gvili.