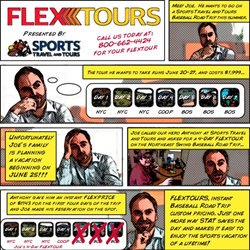 "This is for folks who can't do a seven-day trip and need a little more flexibility," says Sports Travel and Tours Project Sales Coordinator Anthony Incampo. "You tell us what you can do."
Hatfield, MA (PRWEB) May 31, 2017
Everyone wishes they had more time to pursue personal interests, whether that means exploring another country, perfecting a hobby or enjoying the season's most exciting baseball games.
But sometimes, life gets in the way. Family members have birthdays. Friends get married. And then there's that professional conference that can't be missed.
Sports Travel and Tours understands that taking a whole week away to enjoy sports can be easier said than done.
That's why for the first time ever, Sports Travel and Tours is offering FlexTours, allowing travelers to easily enjoy just a part of a trip.
"This is for folks who can't do a seven-day trip and need a little more flexibility," says Sports Travel and Tours Project Sales Coordinator Anthony Incampo. "You tell us what you can do."
Anthony said this idea came about after trip, travelers would report having difficulty taking part in the full duration of a trip because of a prior arrangement at one end or the other. While we were always happy to help find an arrangement that worked, calculating a fair trip cost in a timely fashion proved difficult.
"It took us forever in the past to figure out how much to take off, and was a task for Sports Travel and Tours President Jay Smith involving spreadsheets and calculations," Anthony says. "This year, we created a chart outlining the savings, and can tell travelers the cost in an instant."
With the new FlexTours system, Sports Travel and Tours representatives know the value of each day in a trip, giving them an easy standard for knowing how to reduce a travel package's cost.
"It's the wave of the future for us," Anthony says.
To learn more about Sports Travel and Tours' FlexTours, call 800-662-4424 to schedule an interview.
Contact:
Christopher J. Switzer
pr(at)sportstravelandtours(dot)com
60 Main Street,
Hatfield, MA 01038
Ph: 800-662-4424