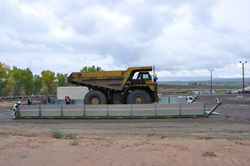 Hydro Engineering Inc. vs Petter Investments, Inc ... entered judgement in favor of Plaintiff Hydro Engineering, Inc. and against Defendant Petter Investments, Inc., in the amount of $5,167,800.00
Salt Lake City, Utah (PRWEB) October 19, 2017
On May 23rd 2017, the United States District Court Central Division for the District of Utah, after an 11 day jury trial titled Hydro Engineering Inc. vs Petter Investments, Inc , Civil No 2:14cv45 DB, entered judgement in favor of Plaintiff Hydro Engineering, Inc. and against Defendant Petter Investments, Inc., in the amount of $5,167,800.00, plus post-judgment interest at the legal rate. It was determined that Petter Investments, Inc (Riveer Environmental), (1) Intentionally interfered with Hydro's contractual relations with Carl Pelletier and (2) Riveer Environmental misappropriated Hydro's trade secrets.
This case was initially filed in July of 2012 when Hydro Engineering Inc, through discovery from Carl Pelletier, a former employee of Hydro Engineering Inc was found to be transferring trade secrets to Riveer Environmental. Hydro's trade secrets, including customer lists, confidential price lists, new product designs and product engineering data were then used by Riveer Environmental to unfairly compete with Hydro Engineering Inc.
Hydro provides the most innovative products in the industry for vehicle and equipment washing, wastewater collecting and recycling requirements. Hydro takes great care to ensure that its intellectual property is protected, and enforces its intellectual property rights to ensure that only Hydro's customers can enjoy the benefits of these innovative products. We are pleased that the Jury and Court has sustained the strength and validity of Hydro's contractural relations and trade secrets.
About Hydro Engineering
Hydro Engineering Inc. is now in its 37th year of operation. The business and its manufacturing facilities are located in Salt Lake City, Utah, serving a growing number of product representatives, national accounts, United States GSA contracts and thousands of end users. The company is committed to providing the best value and most innovative products available to its customers.