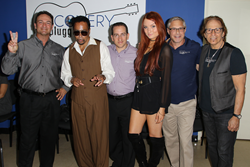 Fort Lauderdale, Florida (PRWEB) May 31, 2017
Morris Day attended in support of Richie Supa, songwriter/guitarist of Aerosmith's GRAMMY-winning "Pink" and Recovery Unplugged® Treatment Center Director of Creative Recovery and Kendra Erika, Billboard top 10 visionary deep-house pop singer with music co-written and produced by Grammy-winning producer, Damon Sharpe, performed three inspirational songs at Recovery Unplugged during Music Therapy for 30 clients and provided an inspirational talk on May 23rd.
About Recovery Unplugged®
Recovery Unplugged® Treatment Center is an addiction treatment organization with facilities in Florida and Texas offering a music-based approach to treatment and recovery from chemical dependency. The centers combine traditional and cognitive behavioral approaches that use music, performance and appreciation as catalysts to break down emotional barriers to inspire and motivate the change necessary for lasting sobriety. Recovery Unplugged® is committed to providing hope and healing, using music to help individuals suffering from addiction all over the United States. With facilities in Ft. Lauderdale, Fla. and Austin, Texas, Recovery Unplugged® uses musical immersion and a customized blend of therapies to affect behavioral change, sustain sobriety after treatment and to combat relapse. Since opening almost three years ago, Recovery Unplugged® has achieved patient completion and long-term sobriety rates of over 90 percent and a long-term sobriety rate over five-times the national average. Research has revealed an extremely low AMA rate (the rate at which patients leave a program against medical advice) of less than nine percent compared to the national average of 39 percent.