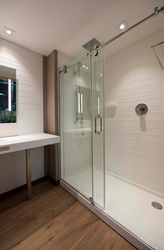 The advantages of SurePods are summarized by 4 S's – speed, simplicity, superior quality and safety
Orlando, Fla. (PRWEB) June 01, 2017
Marriott International recently announced plans to use prefabricated guestrooms or bathrooms in 50 hotels in 2017, which accounts for more than 10 percent of the company's "Select Brand" developments in North America this year. As North America's leading manufacturer of prefab bathrooms, and an established Marriott approved vendor, Oldcastle® SurePods™ is poised to participate in many of those projects.
SurePods leaders and staff showcased the benefits of modular bathrooms to thousands of hotel owners at the Marriott CONNECT conference held in Los Angeles in early May. "The advantages of SurePods are summarized by 4 S's – speed, simplicity, superior quality and safety," said Bill Seery, Director of Business Development for Oldcastle SurePods. "Hotel developers regularly shave two months or more off their construction schedule by using our bathrooms, while providing a high-end space for their guests."
"Construction is the next frontier for innovation, and modular is leading the way," said Eric Jacobs, Marriott International's Chief Development Officer of Select Brands, North America, in a news release.
SurePods has been building bathrooms for Marriott new hotel projects since 2006, and to-date has built over 2,000 bathroom pods for Marriott branded hotels. In addition to use in 5-star hotels, the company's bathroom pods have been used in a range of projects from public housing to assisted living.
About Oldcastle® SurePods™
Oldcastle® SurePods™ is the leading provider of prefabricated bathrooms in North America. Using Building Information Modeling (BIM) and lean manufacturing technology, Oldcastle SurePods works with customers from design to installation to produce custom, ready-to-install bathroom pods for hotels and multi-unit residential projects. Replacing on-site bathroom construction, bathroom pods accelerate the construction timeline, improve overall quality and eliminate the punch list for the bathroom, which is the most problem-ridden part of a construction project. Oldcastle SurePods is part of Oldcastle, one of the largest manufacturers of building products in North America. http://www.oldcastlesurepods.com/