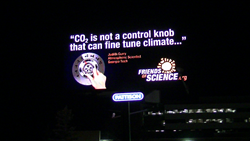 If you make a theory, for example, and advertise it, or put it out, then you must also put down all the facts that disagree with it, as well as those that agree with it
Calgary, Alberta, Canada (PRWEB) June 01, 2017
Friends of Science Society says as US contemplates leaving Paris COP-21 Agreement, as reported by the New York Times May 31, 2017, then NASA's web page with 97% consensus claims on climate change should be updated to include the many studies showing no consensus on climate change.
Friends of Science Society has sent a letter to Chairman Lamar Smith of the House Committee on Science, Space and Technology pointing out that many of the claimed 97% consensus surveys are disputed.
Recent a Scott Adams "Dilbert" cartoon comically made the point that faulty climate models tied to faulty economic models are not wise or useful for public policy – but challenging that makes one a 'denier' – the same is true of using a non-existent 97% consensus.
CATO Institute did a review of how Dilbert framed the misplaced confidence in climate science models. cato.org/blog/dilbert-1-scientists-0
Friends of Science Society quotes astrophysicist Dr. Nir Shaviv: "Science is not a democracy: science is about evidence."
Shaviv's position is that the sun and other cosmic factors drive climate change, carbon dioxide effect from human activity has nominal impact.
The 2012 study "Science or Science Fiction" of Lefsrud and Meyer reviews diverse views of professional members of the Association of Professional Engineers and Geoscientists of Alberta (APEGA). In the paper they also reported that "The proportion of [academic] papers found in the ISI Web of Science database that explicitly endorsed anthropogenic climate change has fallen from 75% (for the period between 1993 and 2003) as of 2004 to 45% from 2004 to 2008."
As reported by the National Review of Oct. 8, 2015, there are numerous studies challenging the existing claim of 97% and others reporting more nuanced results on the complex topic.
Friends of Science Society explain in their letter that science must not fall into "Cargo Cult" mentality – referring to a famous lecture by scientist Richard Feynman.
"It's a kind of scientific integrity, a principle of scientific thought that corresponds to a kind of utter honesty—a kind of leaning over backwards. …Details that could throw doubt on your interpretation must be given, if you know them. You must do the best you can—if you know anything at all wrong, or possibly wrong—to explain it. If you make a theory, for example, and advertise it, or put it out, then you must also put down all the facts that disagree with it, as well as those that agree with it," said Feynman.
According to Friends of Science Society, NASA claiming a 97% consensus when there is none creates serious ethical and economic consequences. Otherwise, as demonstrated by the famous Asch Conformity Experiment of the 1950's, people are too easily fooled by groupthink. Video: youtu.be/NyDDyT1lDhA
About
Friends of Science has spent over fourteen years reviewing a broad spectrum of literature on climate change and have concluded the sun is the main driver of climate change, not carbon dioxide (CO2). Friends of Science is made up of a growing group of earth, atmospheric and solar scientists, engineers, and citizens.
Friends of Science Society
P.O. Box 23167, Mission P.O.
Calgary, Alberta
Canada T2S 3B1
Toll-free Telephone: 1-888-789-9597
Web: friendsofscience.org
E-mail: contact(at)friendsofscience(dot)org
Web: climatechange101.ca