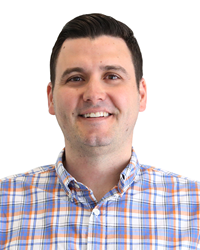 Urbana, IA (PRWEB) June 02, 2017
Clickstop has hired Chad Brandmeyer as its chief financial officer. He succeeds Todd Kuennen, who in October was named president of US Cargo Control, a newly created role for Clickstop's flagship brand.
Brandmeyer most recently served as senior manager with RSM US LLP in Cedar Rapids, formerly McGladrey, a leading provider of audit, tax and consulting services.
He started at Clickstop on May 1.
"Chad is a major win for us and I'm very excited for the opportunity to work with him," Kuennen said. "He is extremely sharp and will be able to see things with a fresh lens that will help drive us forward in new ways."
RSM announced in March that Brandmeyer would be leaving the firm after 12 years.
His 17-year career also includes time as a tax manager at Transamerica Life Insurance Company and CliftonLarsonAllen, both in Cedar Rapids. In 2016, he was among the Corridor Business Journal's Forty Under 40 honorees. The publication annually recognizes 40 people under the age of 40 for their professional achievements and dedicated community service in the seven-county region that encompasses Cedar Rapids and Iowa City.
After spending much of his career advising privately held companies, Brandmeyer says the strategic vision of Clickstop leaders is "right on point." He is eager to begin contributing toward the company's long-term goals and successes.
"There's a lot of greatness to have at this company, and that's really what brought me over here," Brandmeyer said. "I've seen a lot. All companies are different, from growth companies like Clickstop to companies that have gone through bad times and barely survived."
CEO Tim Guenther founded Clickstop in 2005, and the business has boomed ever since. Last year Clickstop made its seventh consecutive appearance on the Inc. 5000 list of fastest-growing private companies in America. For a record eighth time this year, the Corridor Business Journal named Clickstop one of the top 25 Fastest Growing Companies in the Cedar Rapids/Iowa City area.
Continuing that trend is never easy, Brandmeyer said.
"There has to be evolving changes, and I truly think Tim's got it headed in the right direction," Brandmeyer said.
According to Guenther, Brandmeyer will be a key player as Clickstop forges ahead with accelerated initiatives.
"We're gearing up for rapid growth in 2018 and beyond, and adding Chad to the team is another way to ensure that we are a sustainable growth company," Guenther said. "This feels like another breakout time for Clickstop. The next few years are shaping up to be our largest growth years yet."
Clickstop owns and operates a diverse suite of brands from its headquarters in Urbana. US Cargo Control, its largest division, specializes in cargo control, rigging and lifting equipment, and moving supplies. A more than 53,000-square-foot building addition is nearing completion and has allowed for expanded manufacturing capabilities, as well as much-needed office and common spaces.
Brandmeyer, 39, obtained a bachelor's degree in accounting in 2000 from the University of Northern Iowa in Cedar Falls, and is a certified public accountant. He grew up in Story City and currently lives in North Liberty with his wife, Nikki, and two kids, Luke and Ava.
###
About Clickstop, Inc.
Clickstop is a multi-brand merchant based in Urbana, Iowa. Its focus on great workplace culture has landed the company multiple work environment-focused awards including two first-place achievements as the Coolest Place to Work, along with being named one of Iowa's Top Workplaces by The Des Moines Register for four consecutive years. Clickstop serves diverse markets that include the moving and cargo control industry, energy-efficient insulation products, fasteners and home organizing solutions. For more information, visit Clickstop.com.
About US Cargo Control
US Cargo Control is a leader in the cargo control industry, specializing in cargo control, lifting slings, rigging equipment and moving supplies. With growing product offerings and a focus on innovation, the company is committed to offering quality products, timely delivery, and an excellent customer experience. Expanding manufacturing capabilities and custom options further ensure customers get what they want, when they need it.