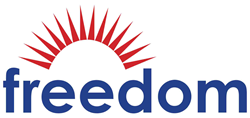 There's no better time than your young adult years to build good habits and a strong financial foundation.
San Mateo, Calif. (PRWEB) June 02, 2017
This month, millions of young adults, armed with new diplomas, are entering the job market – some already in debt and burdened with student loans. Freedom Financial Network (FFN), an innovative financial services company that enables consumers to overcome debt, build wealth and achieve better financial health, has tips for new graduates to get started on the right financial footing.
About 3.5 million students will graduate high school this spring, and another 4 million will earn a college or graduate degree. The average college graduate owes more than $37,000 in student loan debt.
Sean Fox, co-president of Freedom Financial Network, recommends that graduates take these eight steps as they begin their adult financial life.
1. Benefit from today's low unemployment rate. Good news for today's grads: The unemployment rate for people ages 16 and up was just 4.4 percent in April. That is the lowest the rate has been in more than 10 years, according to the Bureau of Labor Statistics. Even if the first job is not exactly what they were seeking, graduates are likely to find some employment. They can gain experience and a paycheck while continuing to seek out their dream jobs.
2. Create a budget. A budget is a spending plan, based on income, lifestyle and goals. Grads should begin by tallying all set monthly expenses – including housing, utilities, student loans, car payments and any credit card debt – and variable expenses, such as groceries, gas and clothing. The total will help set a target for monthly income and savings.
3. Use credit cards wisely. Younger millennials (age 18-24) have fewer credit cards, and use them less than any other generation. In fact, just 67 percent of young millennials use credit cards at all. However, most adults need one credit card for personal business and to help build a credit history. "New grads generally will find it helpful to have one credit card they use in moderation, and on which they pay the balance on time and in full every month," says Fox. "Doing so will help credit scores by showing financial companies, employers and landlords a level of financial responsibility." Grads who have any credit card debt should aim to pay it off before student loan payments begin.
4. Take charge of student loans. Most student loans have a six-month grace period after graduation before regular payments begin. Graduates can check into loan repayment options, such as profession-based programs. Teachers or public servants may qualify for loan forgiveness. Some people qualify for income-based repayment plans. Those who suspect they might have trouble making payments should ask their lender about alternative arrangements.
5. Pay on time. On-time payments are the single most important way build and protect a credit rating. They account for more than one-third of a person's credit score.
6. Build an emergency fund. Deposit graduation money in a savings account dedicated to an emergency fund. Then, contribute 10 percent – or as much as possible – to the account from each paycheck. Build this fund to cover six to nine months of basic living expenses, although most new grads will find that even a few hundred dollars saved will go a long way toward covering an unexpected job loss, sudden car repair or a rental deposit.
7. Save for retirement. Everyone should enroll in an employer's retirement plan or open an individual retirement account (IRA). Saving $100 per month, growing at an annual rate of 6.5 percent, would amount to more than $320,000 over 45 years. Anytime income increases, raise the savings amount.
8. Get health coverage. At this writing, the Affordable Care Act remains in place, which means that health insurance policies are available to policyholders' adult children until they turn 26. This provision can make it more affordable for young adults who do not have insurance offered through their employers to maintain health insurance. "Health insurance is your best option to cover unexpected medical bills, rather than going into debt to pay for a health crisis," Fox says. In addition, current law imposes a fine – paid when filing annual tax returns – for anyone who does not have health insurance.
"Find a way to stay within budget and live below your means," Fox advises. "Whether that means working two jobs, having multiple roommates or living without a car if it comes with a car payment, there's no better time than your young adult years to build good habits and build a strong financial foundation."
Freedom Financial Network (http://www.freedomfinancialnetwork.com)
Freedom Financial Network, LLC (FFN), is a family of companies providing innovative solutions that empower people to live healthier financial lives. For people struggling with debt, Freedom Debt Relief offers a custom program to significantly reduce and resolve what they owe more quickly than they could on their own. FreedomPlus tailors personal loans to each borrower with a level of customer service unmatched in the industry. Bills.com helps homeowners better understand their loan options and make smarter mortgage decisions.
Headquartered in San Mateo, California, FFN also operates an office in Tempe, Arizona, and employs more than 1,600 people. The company has been voted one of the best places to work in both the San Francisco Bay area and the Phoenix area for several years. In 2016, FFN ranked No. 1 in the Extra-Large category of the Phoenix Business Journal's Best Places to Work awards.
(end)