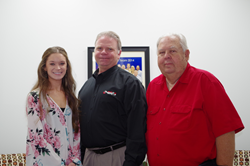 Today's announcement recognizes how important alignment is to our company's future success as well as future successes of the individuals that contribute
Houston, Texas (PRWEB) June 06, 2017
Custom Air Products & Services, Inc., one of the largest custom HVAC manufacturers in North America with over 40 years of experience specializing in the design, construction, installation, modification, and servicing of industrial, commercial and offshore HVAC equipment, will engage in a changing the guard, promoting Kelly Stiles following the retirement of Mark Mullins.
"Today's announcement recognizes how important alignment is to our company's future success as well as future successes of the individuals that contribute," said Bob Love, CAPS chief financial officer. "By promoting and reorganizing leadership from within the company, we will ensure consistent execution of our day-to-day business and continue to be a premier workplace of choice in Houston."
After a 10-year accounting and reporting career with CAPS, Mark Mullins will be retiring effective June 30th, 2017. Mark Mullins has been an integral part of CAPS for the last 10 years. Mark's career with CAPS began as a support specialist working in many service-oriented roles throughout CAPS and landing his best-known role as "GP" guru. Mark's contributions will always be valued and remembered. His hard work, commitment, and dedication are worthy of admiration. Once retired, Mark will be enjoying his full-time hobby, as a model aircraft aficionado. Accepting the position to succeed Mark will be Kelly Stiles.
In announcing his retirement, Mullins said. "It's tough to say goodbye to the CAPS Family, but there is a time and season for everything. I am truly confident as I pass the reins over to Kelly, that she will continue to move our business and brand forward."
Kelly Stiles received her BBA in Accounting from Stephen F. Austin University and brings to CAPS as well as to this position, a keen business acumen and strong leadership accounting skills. Kelly has made tracks within the accounting department of CAPS since 2014.
"I am grateful to have had the opportunity to work with Mark and congratulate him on his career and contributions he has brought to CAPS," said Stiles. "I am honored to accept this position, and am committed to working with our suppliers and employees to drive forward our strategic business priorities to better serve our customers."
About Custom Air Products & Services
Custom Air Products & Services, Inc. is a full-service HVAC company that specializes in the design, construction, installation, modification, and servicing of industrial and commercial HVAC equipment. CAPS employees are committed to providing exceptional custom design and quality workmanship at competitive prices.
Custom Air Products & Services currently occupies six (6) modern facilities, totaling 300,000 square feet in size. These buildings include manufacturing, fabrication and modifications, paint booths, a parts warehouse, engineering offices and a training facility. CAPS services are provided to customers throughout the United States and abroad with manufactured equipment operating on six (6) continents and in (52) countries.