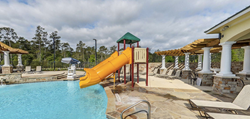 "This is an exciting time for the community," says Jim Holcomb, President of Holcomb Properties. "Between the new schools and opening of The Retreat, new homebuyers have plenty to look forward to."
Spring, Texas (PRWEB) June 05, 2017
Falls at Imperial Oaks announced today the opening of a brand new recreation center on the south side of the master-planned community. "The Retreat" is a 3,200 square foot facility that will offer new homebuyers a resort-style getaway in addition to the award-winning Lake Club. Residents have access to a pool with beach entry, splash pad, an outdoor patio with shade arbors, covered pavilions and a fire pit as well as several grilling areas. Across the street work is underway on a new park, including nature trails, seating areas and a soccer/ball field.
And that's just the start of what's blossoming in Falls at Imperial Oaks. With homes priced from $200,000 to $600,000+, Falls at Imperial Oaks continues to flourish by improving road access to The Grand Parkway, adding amenities and new Conroe ISD schools.
"This is an exciting time for the community," says Jim Holcomb, President of Holcomb Properties. "Between the new schools and opening of The Retreat, new homebuyers have plenty to look forward to."
This January, Conroe ISD announced that the attendance boundary for the new Grand Oaks High School schools will include all residents of Falls at Imperial Oaks. Grand Oaks High School will be opening Fall 2018 on the Grand Parkway, just outside The Falls community. A second on-site elementary school, Lucile Bradley Elementary, will be opening Fall 2017 to students in The Falls.
"We're thrilled that our young residents will have the opportunity to be a part of building a legacy at the new Grand Oaks High School," says Holcomb.
The construction of Imperial Promenade Drive is paving the way for new recreation developments including a 100-acre lake and miles of nature trails. Residents will have many recreational opportunities without leaving the neighborhood. In addition, the on-site Holcomb Family YMCA will be located on the new road, construction schedule to be determined. Imperial Promenade Drive will provide another direct access point for The Falls to the Grand Parkway, creating a stop-free route for drivers to the neighborhood.
About Falls at Imperial Oaks
Falls at Imperial Oaks is a premier master-planned community located east of interstate 45 in Spring, Texas. Lots and homes are available in eight sections, priced from the $200s-$600s+. The Falls continues to expand and build new homes, while offering access to natural wooded areas, hiking trails, lakes for fishing and lakefront lots.