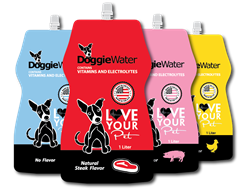 Many of us under-hydrate our dogs, and quite often our pets' diets are also lacking all of the nutrients required to keep them as healthy as possible...water alone, might not be fulfilling their replenishment requirements
Downey, CA (PRWEB) June 06, 2017
Doggie Water Inc. has officially launched an e-commerce web site and sales model for their DoggieWaterTM brand (mydoggiewater.com), a line of energy waters for dogs, packaged in portable, earth-friendly, re-sealable pouches. Founded and invented by Robert K. Whyte, DoggieWater currently produces and ships four different products for pets: "Steak", "Chicken" and "Bacon" flavored DoggieWater, and a non-flavored water. The company also offers an automatic renewal subscription program, consisting of monthly delivery of DoggieWater and additional "club member" benefits.
DoggieWater is a canine diet supplement in liquid form, meant to properly hydrate and bolster the nutritional intake of dogs via its added vitamins and electrolytes, including: Vitamins B1 (metabolism), B3 (enzyme function, healthy skin, circulation), and B12 (prevents exocrine pancreatic insufficiency); Iodine (an essential trace mineral); and Manganese (bone-builder, cellular energy producer, optimal nervous system).
"A good general rule of thumb to avoid canine dehydration, is to have your dog drink one ounce of water for every pound it weighs, per day. Many of us under-hydrate our dogs, and quite often our pets' diets are also lacking all of the nutrients required to keep them as healthy as possible," said Robert Whyte, CEO and Founder of DoggieWater.
Whyte, along with his wife and DoggieWater's Founder, Stacy Whyte, decided to embark on the dog vitamin water journey while watching professional athletes playing hard, and simultaneously taking note of the proliferation of "human" vitamin waters and energy drinks meant to replenish "people".
Whyte continued, "I turned to Stacy and said, 'there should be a product like this for dogs…they also need vitamins and electrolytes...they play even harder than we do, most of the time. And water alone, might not be fulfilling their replenishment requirements'."
Prior to DoggieWater's initial launch, the Whytes had an existing beverage business with products packaged in patented, eco-friendly pouches. DoggieWater's packaging utilizes the same technology as those "human" beverages: 100% BPA-free, travel-friendly flex pouches that are lightweight and sport a compact profile, ideal for space-saving storage and shipment. The pouches' eco-friendly design allows them to carry about an 80% lower carbon footprint than other packaging, and they create 90% less landfill waste as compared to other packaging containing equal amounts of liquid.
Single DoggieWater pouches hold one liter of fluid; each suggested serving size is six ounces, which can be served straight, mixed with regular drinking water or poured over food. DoggieWater's 'green', grab-and-go packaging – and the product's main purpose – is geared towards eco-minded people and pets on-the-go, traveling with dogs, outdoor recreation, as well as everyday nutritional supplement needs.
Whyte added, "We're all about family. We are a small, family-operated business. We're selling our products direct to consumer, hoping to build a whole dog water community. For so many of us these days, our pets are our babies. We want to help people take care of their babies and keep their doggy healthy."
DoggieWater is available for sale on-line, through the company's web site (mydoggiewater.com), and a portion of all DoggieWater sales will be donated to Best Friends Animal Society®.
More information about DoggieWater is available at mydoggiewater.com. DoggieWater is also on Facebook, Twitter and Instagram, at facebook.com/mydoggiewater, twitter.com/mydoggiewater and @mydoggiewater.
Requests for further information and comment, or interview requests, may be directed to Anna Ferguson-Sparks, Stiletto Marketing, at 1.877.327.2656 or info [at] stilettomarketing [dot] com.