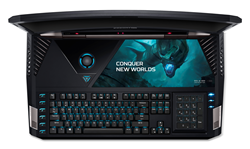 SAN JOSE, Calif. (PRWEB) June 05, 2017
Acer America today launched 21 X Hunt, a 21-day scavenger hunt comprised of daily challenges that when solved, earn contestants entries into a sweepstakes for a range of Acer gaming products. Prizes include Predator 17 notebooks, Predator X34 and XB1 monitors, Predator accessories and the ultimate grand prize of a Predator 21 X, the world's first 21-inch curved gaming notebook.
Seven challenges will be issued every Sunday and contestants will have the full duration of the sweepstakes to solve all 21 challenges. Each week, Acer will randomly draw one individual from all those participating in the 21 X Hunt to win a notebook or monitor, while there will be daily chances to win Acer Predator accessories, with the grand prize being awarded at the conclusion of the sweepstakes on June 27.
The grand prize, the Predator 21 X gaming notebook, is the world's first to offer a curved 21-inch IPS display. Bringing gameplay immersion to the next level, it integrates Tobii eye-tracking technology for a new method of control that's intuitive and natural; gamers can take aim, identify enemies and take cover by gazing at objects on the screen. The curved screen also features NVIDIA® G-SYNC™ technology for smooth and sharp gameplay. It also includes 7th Generation Intel® Core™ processors and dual NVIDIA® GeForce® GTX 1080 graphic cards in SLI. It ships with 4 speakers and 2 subwoofers, 3-way audio and Dolby® Audio for truly pristine audio. Advanced cooling includes 5 fans, 3 of which are ultra-thin AeroBlade™ metal fans, to dissipate excess heat. Its full-sized mechanical keyboard features Cherry® MX switches, customizable RGB backlight settings for each individual key, and its numeric keypad can be flipped over and turned into a Touchpad.
Those who are ready to take on the 21 X Hunt may find the challenges and enter to win at http://www.21xhunt.com.
About Acer
Founded in 1976, today Acer is one of the world's top ICT companies and has a presence in over 160 countries. As Acer looks into the future, it is focused on enabling a world where hardware, software and services will infuse with one another to open up new possibilities for consumers and businesses alike. From service-oriented technologies to the Internet of Things to gaming and virtual reality, Acer's 7,000+ employees are dedicated to the research, design, marketing, sale, and support of products and solutions that break barriers between people and technology. Please visit http://www.acer.com for more information.
© 2017 Acer America Corporation. All rights reserved. Acer and the Acer logo are registered trademarks of Acer Inc. Other trademarks, registered trademarks, and/or service marks, indicated or otherwise, are the property of their respective owners. All offers subject to change without notice or obligation and may not be available through all sales channels. Prices listed are manufacturer suggested retail prices and may vary by location. Applicable sales tax extra.