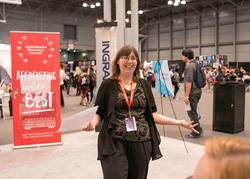 Montclair, NJ (PRWEB) June 06, 2017
On Saturday, 6/2, CJ Lyons, New York Times and USA Today bestselling author of over thirty novels and two time winner of the International Thriller Writers' coveted Thriller Award, and Amy Edelman, founder of IndieReader (http://www.indiereader.com), announced the winners of the 2017 "IndieReader Discovery Awards" (IRDA) at BookCon, in New York City.
IndieReader, the essential consumer guide to self-published books and the people who write them, created the IRDAs to give indie authors access to people who can make a difference in their book's success. With the rush by traditional publishers to sign them and their noteworthy bestselling status, there's no longer much doubt that indie authors can be both commercially and creatively successful.
While writing a great book is the first step, getting it in front of the right people—be they readers or agents or traditional publishers—is also a critical part of making an indie book a success. To that end, judges on the IRDA panel include PR and publishing professionals, top industry bloggers, professional reviewers and more. Winners will have their titles submitted to New York literary agents Dystal, Goderich & Bourret for representation consideration. Judging is based on the quality of writing and the originality of the story.
There is a first, second and third place winner in each of the fiction and non-fiction categories, in addition to 21 additional winning authors/titles in 18 sub-categories.
The winners, judges, the genre and the authors contact information follows below.
First Place/Fiction
Mary Maddox/DARKROOM
Categories: Mystery/Suspense/Thriller
Contact: maddox.dreambeast(at)gmail.com
Second Place/Fiction
Leylah Attar/MISTS OF THE SERENGETI
Categories: Romance and Literary Fiction
Contact: leylah.attar(at)gmail.com
Third Place/Fiction
Nath Jones/RADAR ROAD
Categories: Short Stories and Literary Fiction
Contact: nathorose(at)gmail.com
First Place/Non-Fiction
Karima Cammell + Clint Marsh/THE TROLL COOKBOOK
Category: Cooking
Contact: marsh(at)dromedarypress.com
Second Place/Non-Fiction
James Manning + Nicola Ridgeway/A JOURNEY WITH PANIC
Categories: Psychology/Mental Health
Contact: stoppingdepression(at)gmail.com
Third Place/Non-Fiction
Christopher Zoukis/FEDERAL PRISON HANDBOOK
Category: Self-Help
Contact: educationforprisoners(at)comcast.net
CATEGORY WINNERS
Aging/Death & Dying - Anna Hodges Oginsky/MY NEW FRIEND, GRIEF
Children Board Book - Carole P. Roman/ROCKET BYE
Children's (Early to intermediate readers) - Sandra Richards/RICE & ROCKS
Graphic Novel - Howard Shapiro/HOCKEY KARMA
Health/Medicine/Nutrition - Romy Block/THE VITAMIN SOLUTION
Humor – CL Lynch/CHEMISTRY
Inspirational/Spiritual - Robert J. Slothower, James R. Harman/PLAINS TO THE PACIFIC
Lit Fiction - George Crowder/THE BOOK OF MOON
Memoir - JoAnne Blackwelder/HUSBAND: MY 40-YEAR MARRIAGE TO A GAY MAN
Mystery/Suspense/Thriller - Geoffrey Visgilio/SWITCH
Nutrition – Carol D'Anca/REAL FOOD FOR HEALTHY PEOPLE
Parenting (Child Care/Family) - LeeAndra M. Chergey/MAKE A WISH FOR ME
Poetry (TIE) - Thom Kudla/COMMENCEMENT
Poetry (TIE) - Thom Kudla/OUT OF CONTEXT
Popular Fiction (TIE) - Brenna Marie Gautam/BLACK WATER
Popular Fiction (TIE) – Harry Groome/THE BEST OF FAMILIES
Religion (TIE) - Anthony Coleman/THE EVANGELICAL EXPERIENCE
Religion (TIE) - Sarah Bowen/VOID IF DETACHED
Science Fiction (TIE) - Henry Mosquera/SPACE FANDANGO
Science Fiction (TIE) - Scott McDermott/ELECTION 2064
Women's Issues - Alexis Marie Chute/EXPECTING SUNSHINE
YA – Alan Sproles/BILLY BEDIVERE IN THE QUEST FOR THE DRAGON QUEEN
For further information please contact Amy Edelman, amy(at)indiereader, 973/320-4310