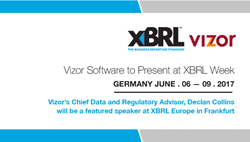 Dublin, Ireland (PRWEB) June 05, 2017
Vizor, the world leader in regulatory software trusted by Central Banks and Financial Regulators for the collection and validation of highly complex data from Financial Institutions, today announces Vizor's Chief Data and Regulatory Advisor, Declan Collins, will be a featured speaker at Eurofiling XBRL Week in Frankfurt, Germany, June 6th to 9th, 2017.
XBRL Week in Frankfurt is being organised by Eurofiling and XBRL Europe with the support of Bundesanzeiger Verlag, along with European Banking Authority (EBA), European Insurance and Occupational Pensions Authority (EIOPA) and kindly hosted by the European Central Bank.
XBRL Europe Day is focused on policy and guidelines evolution involving the XBRL standard in Europe, European Authorities and EU Countries, while the Eurofiling Workshop is oriented to COREP, FINREP, Solvency II, IFRS and implementations. The Academic Track is an open space for sharing ideas and experiences from established and emerging reporting domains using standards. It offers the opportunity for academics and industrial researchers to present their work.
Track: Plenary
Presentation: Coherent Business Reporting
This talk will outline the spectrum of regulatory engagement and the key role purposeful data collection plays. It will showcase the information supply chain, share thought-provoking observations on current data practices and provide powerful recommendations on good practices.
The talk will draw on 30 years of experience in the Central Bank of Ireland, recent MSc. Data Business study, current work with Vizor and up to date research and practice in the data business domain.
When: Wednesday, June 7, 16:00 – 16:20
Where: European Central Bank, Frankfurt, Germany
About Declan Collins
Declan Collins is the Chief Data and Regulatory Advisor for Vizor, providing thought leadership in the data and regulatory fields to ensure Vizor Software is both current and forward-looking. Before joining Vizor, Declan worked in the Central Bank of Ireland for thirty years and led the development of the Banks regulatory data collection and analysis systems. He was also the Vice Chair of the IT and Data Committee (ITDC) at EIOPA.
Declan graduated in 2015 with an MSc. Data Business from University College Cork and the Irish Management Institute, the first course in the world dedicated to the role of the CDO. His MSc. thesis won an award from Gartner for innovation and commercial applicability. Declan also holds a BSc. in Computer Science from Trinity College Dublin.
About Vizor
Vizor Software has been the standard for financial regulatory technology since 2000. Leading the way in regulatory supervision software, Vizor Software is trusted by central banks and financial regulators from around the globe for the collection, validation and analysis of highly complex data from Financial Institutions. Serving the needs of Financial Regulators in more than 30 countries, Vizor simplifies and strengthens financial regulation systems. You can learn more and visit Vizor at http://vizorsoftware.com or by following Vizor on Twitter, LinkedIn, Google+ and Pinterest.