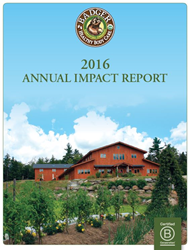 Our hope is that businesses and stakeholders across the state come together to make New Hampshire a leader in fighting climate change
Gilsum, New Hampshire (PRWEB) June 05, 2017
In support of the Paris climate agreement, the W.S. Badger Co. today announced signing an open letter to the international community pledging to do its part to reduce greenhouse gas emissions 26-28% by 2025. As part of its stance on climate change, the award-winning organic body care maker is asking New Hampshire businesses, state officials, and community leaders also to sign the open letter and join them in the global fight on climate change.
Initiated by WWF, Ceres, and other NGOs, the open letter has an overarching message of "We Are Still In." It is intended to show that businesses of all sizes, investors, state and local officials, and higher education leaders are still committed to ambitious action on climate change and will move forward with efforts to reduce carbon pollution and support the transition to a low carbon economy.
"Badger's commitment to the environment is deeply rooted," said Rebecca Hamilton, co-owner of Badger and vice president of product development and research. "As a certified B Corp, we believe that businesses should be a force for good and we want to encourage everyone to stand together in support of the greater good. Our hope is that businesses and stakeholders across the state come together to make New Hampshire a leader in fighting climate change."
Any representative with authority to sign the open letter on behalf of their institution can do so here. The letter will list company names only (no individual names) and will remain open for signatures indefinitely.
Badger recently published its 2016 Annual Impact Report highlighting its ongoing commitment to environmental and social governance practices, and its recent recertification as a B Corp. In addition to being a certified B Corp, Badger is also a New Hampshire Benefit Corporation, a legal corporate status that allows businesses to write their greater purpose and mission into the DNA of the company and follow a triple bottom line model. Benefit Corporations are required to provide transparency and accountability on their social and environmental performance through the publication of an annual impact report, which is subject to third party assessment standards.
ABOUT BADGER
Badger is a family run and family-friendly company that has been making healthy products for people and the planet since 1995. Badger was born when Badger Bill, a carpenter at the time, created a recipe of natural ingredients strong enough to soothe his rough, dry, cracked hands. Now a team of over 100 employees, Badger produces almost all of its products in Gilsum, N.H. Inherent in Badger's DNA is its status as a B Corp, a certification earned through B Lab, a third party nonprofit that requires companies to meet rigorous standards of transparency as well as environmental and social performance. Badger has been a certified B Corp since 2011 and in 2015 became one of New Hampshire's first businesses to register legally as a Benefit Corporation, a for-profit status that incorporates the pursuit of positive environmental and social impact in addition to profit.