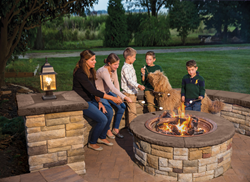 Woodbury, New Jersey (PRWEB) June 07, 2017
Outdoor spaces are open to possibility. While indoor rooms must be designed within the existing structure, outdoor rooms can be whatever the homeowner wants them to be. That doesn't mean open-air rooms must be undefined. Garden walls aren't simply for lining a property's edge. Homeowners now have multiple patio design options in outdoor walls, coverings and floorings.
Garden walls are the key to building a luxurious outdoor entertaining space. Already well-known as useful landscape features, garden walls can be utilized to do much more. They can define the area of an outdoor room, add seating, provide a base for decor and support a vertical garden. Garden walls elevate planters and add drama to a space. A double-sided garden wall can frame the patio as well as lend space for vertical greenery and seating.
Garden wall construction can involve some expertise. Work with a landscape designer and a contractor for any garden wall project. A landscape designer can show how garden walls can serve its many functions specifically for each project. When a garden wall is topped with smooth wall cap pavers, they are natural seating spots. A wall closer to the main gathering space is purposefully designed to be extra seating. A garden wall can also serve to delineate the outdoor room from the yard or pool area. For example, a fire pit surrounded by a large, circular wall makes a fun campfire-like space, or a tiered patio can transform a steep hill into an open-air theater. Plan on guests sitting on any seating-height, flat-topped garden walls.
As there are many options for garden walls – as there are for retaining walls or freestanding walls – be sure to check the suitability of any given wall product for the function you wish it to serve. Confirm the maximum height limitations to ensure you're building with an appropriate wall system. In some cases it may be required to consult an engineer. Consulting a professional designer may give you more options for your project, as you may be surprised what can be built with outdoor wall systems.
Open up your imagination to all the possibilities of garden walls for your open-air room. It may soon become your favorite room of the house.
About EP Henry®
EP Henry®, the oldest American family-owned and operated manufacturer of unit concrete products in North America, provides the highest quality and broadest product offerings in Hardscaping(™). Based in Woodbury, New Jersey, EP Henry manufactures a wide range of paving stone and retaining wall products. EP Henry offers beautiful patio pavers, outdoor kitchen kits, garden wall solutions and more. For more information on EP Henry Hardscape products, visit EPHenry.com or call 800-44-HENRY (800-444-3679).