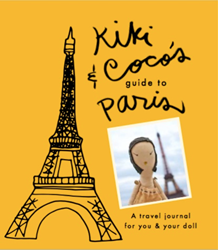 Petaluma, California (PRWEB) June 06, 2017
KIKI & COCO'S GUIDE TO PARIS
A Travel Journal for You and Your Doll
Words by Nina Gruener
Photographs by Stephanie Rausser
Doll by Jess Brown
Quelle chance! You're off to Paris, the City of Light! Bring your own doll and follow along in Kiki and Coco's footsteps as you learn to speak un peu le Français, dress and eat like a Parisian, and record your experiences in this little travel journal, a charming accompaniment to the picture book Kiki & Coco in Paris. Complete with fun facts, activities, and a pocket in the back, this petite, paperback keepsake is sure to become your most treasured souvenir.
KIKI & COCO'S GUIDE TO PARIS
A Travel Journal for You and Your Doll
Words by: Nina Gruener
Photographs by: Stephanie Rausser
Doll by: Jess Brown
Publisher: Cameron Kids (a division of Cameron + Company)
ISBN: 978-1944903-07-7
Format: Paperback, 32 pages, 6 x 9
Publication Date: June 27, 2017
Distributor: PGW/Perseus
Retail: $12.95
Ages: 4 to 8
Nina Gruener is a children's book publisher and author, having written Above San Francisco, Above New York, Above Chicago, Kiki & Coco in Paris, and Lulu & Pip. She lives in Petaluma, California, with her husband and three children.
Stephanie Rausser is an advertising and editorial photographer who loves photographing kids, especially her daughter Kiki. Stephanie sees the world for all its beauty and humor and loves making it a little more fun, pretty and inviting. She lives in Northern California.
Jess Brown has always made dolls for her children, Stella and Tiger. Combining her love of antique textiles and the sensibilities of a comfort doll, she created a line of small rag dolls for her shop, Maude, in Petaluma, California. The dolls quickly won the hearts of adults and children alike.
Cameron Kids, the children's book imprint of CAMERON + COMPANY, publishes kids' books for all ages. We have a small and growing list of thoughtfully curated, acquired, and produced titles. With an emphasis on beauty, simplicity, and story, we are carrying on the Cameron tradition of books that need to be books – for kids! http://www.cameronbooks.com