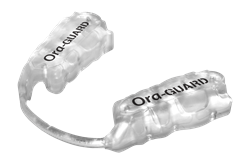 (PRWEB) June 07, 2017
Bite Tech Inc., an innovative oral products company has recently announced the availability of its newest product, the Ora-GUARD® Dental Grind Guard at all 7,800 CVS locations nationwide, and online at http://www.cvs.com.
Ora-GUARD® is an over-the-counter dental grind guard product designed to protect the teeth from the negative effects of bruxism and teeth grinding, as well as secondary symptoms, such as tooth damage/sensitivity, TMJ headaches, jaw pain, and neck/shoulder soreness. The dental guard is a comfortable lower jaw design, with one-size-fitting-most users. The Ora-GUARD® Dental Grind Guard can be easily fit at home by using the 60 second microwave or boil and bite fitting methods.
The unique and patented Ora-GUARD® Dental Grind Guard combines a soft, medical grade fit material to cushion the jaws during clenching with a hard surface design to protect tooth surfaces from the damaging effects of bruxism. The lower jaw design with flexible labial strap and molar gripping "T" bars fits securely in the mouth and is comfortable to wear allowing for natural breathing while sleeping.
Bruxism is a painful problem; as many as 60 million Americans grind their teeth at night, often resulting in headaches, damaged teeth, and ear, jaw and neck problems. No medication is currently available to treat bruxism with the recommended treatment being the use of a dental grind guard.
"TMJ and bruxism consumers are seeking health outcomes that are not being met with the current grind guard products on the market", said Jeff Padovan, CEO of Bite Tech. "Ora-GUARD's patented bite plate wedge design is specially constructed to slide the lower jaw down and forward, releasing tension on the TMJ muscle, while the medical grade fit material cushions the jaws during clenching, preventing tooth damage. No other product on the market today can make these claims."
About Bite Tech Inc.
Founded in 1995, Bite Tech Inc. is an innovation-driven oral health products company that manufactures and sells oral products to the dental channel and athletic mouthguards to sporting goods and mass retailers.
Bite Tech Inc. holds more than 45 patents and pending patents for its innovative, proprietary designs and technologies. Bruxism sufferers look to Bite Tech dental guards (Ora-GUARD®) for relief from teeth grinding and jaw pain while athletes in virtually all sports rely on Bite Tec mouthguards for protection and performance improvement on and off the field. For more information, visit Ora-guard.com.