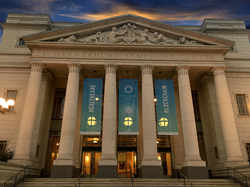 With blockchain technology more powerful than ever and global healthcare undergoing major change, the industry is poised to advance the discussion and take significant strides in 2017
Nashville, TN (PRWEB) June 07, 2017
BTC Media announced the return of its blockchain conference tailored for the healthcare industry, Distributed: Health, to be held in Nashville, Tennessee from September 25-26, 2017. Co-hosted with Hashed Health, the conference is designed to educate and promote the advancement of meaningful blockchain technology in the healthcare field.
"The inaugural Distributed: Health conference was a chance to introduce healthcare leaders to distributed ledger technology as a solution for the fundamental problems they face," said David Bailey, CEO of BTC Media. "With blockchain technology more powerful than ever and global healthcare undergoing major change, the industry is poised to advance the discussion and take significant strides in 2017."
Experts from the Centers for Disease Control and Prevention (CDC), Aetna and the Altarum Institute will all share their insight on the future of healthcare and blockchain technology. Scheduled speakers include Jim Nasr, Dr. Harold Paz and Francois de Brantes.
Nasr is the Chief Software Architect at Center for Surveillance, Epidemiology and Laboratory Services, CDC and leads a number of initiatives around modernization of CDC's public health systems, with core focus on building forward-looking and interoperable software based on Microservices, modern DevOps, blockchain and open technology frameworks. Dr. Paz is the chief medical officer with Aetna, one of the nation's largest healthcare companies, leading clinical strategy and policy at the intersection of all of Aetna's domestic and global businesses. De Brantes is vice president and director for the Altarum Institute Center for Payment Innovation, which designs and implements innovative payment and benefit plans.
More than 1,000 attendees are expected, including leaders of major healthcare enterprises and founders of distributed ledger startups. In addition to exploring how blockchain technology can create a more cost-effective and consumer-oriented system, Distributed: Health will parse the details of international systems and regulatory updates from D.C. The conference will also offer an expanded hackathon, technical training for developers interested in learning blockchain protocols and a venture capital forum.
Hashed Health is a healthcare innovation firm leveraging the blockchain and distributed ledger technologies to transform the healthcare system. The two-day Distributed: Health conference will be followed by a one day consortium event hosted by Hashed Health. In addition, BTC Media and Hashed Health are hosting a hackathon, code camp and continuing legal education seminar.
"Distributed ledger technologies play a critical role in how healthcare will evolve over the next decade," said John Bass, CEO of Hashed Health. "Hashed Health and its thought-leading partners from around the globe are coming together to advance health innovation in September. Anyone interested in healthcare innovation should not miss this event."
Distributed: Health will again be held at the Schermerhorn Symphony Center in the heart of downtown Nashville, one of the largest healthcare cities in the world. Nashville is home to nine of the 10 largest hospital corporations, with more than 250 other healthcare companies based in the region.
For details and registration, visit distributed.com/events/health.
About BTC Media
The Distributed Conference Series focuses on vital trends and developments in key industry verticals. BTC Media is the world's largest provider of multimedia educational content, conferences and other high-value informational resources focused on the digital currency and blockchain industries. Based in Nashville, BTC Media publishes Distributed, Bitcoin Magazine, yBitcoin, Gongshitan and other media properties.
About Hashed Health
Hashed Health is a collaborative healthcare innovation firm dedicated to realizing the potential of blockchain and distributed ledger technologies. Hashed Health's consortium brings together work groups to develop networks centered on specific healthcare use cases. To empower its members, Hashed Health provides value-added services such as network product management, product development, regulatory guidance and technology support services. Hashed Health focuses on blockchain implementations to address a range of well-known issues in healthcare including IoT, revenue cycle management, payment reform, medical records, insurance and healthcare supply chain logistics. More information can be found at http://www.hashedhealth.com/ or by emailing join(at)hashedhealth(dot)com.
For media inquiries, or to schedule an interview, please contact Cynthia Price: cynthia(at)btcmedia(dot)org
For speaker or sponsorship information, please contact Bryce Wells:
bryce(at)btcmedia(dot)com
For media outreach to Hashed Health, please contact Jan Jahosky:
jjahosky(at)hashedhealth(dot)com