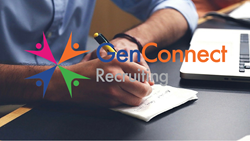 We are looking forward to years of continued success and plan to continue to be disruptive with our recruiting methods.
ATLANTA, GA, June, 6, 2017 (PRWEB) June 07, 2017
One year ago this month, GenConnect Recruiting, http://www.genconnectrecruiting.com, was founded by Leigh Lones, of Atlanta, GA and Kerry Higley, of Hunstville, AL. The business was founded to address the growing challenge of connecting disparate generations in the workforce, while also helping businesses retain top talent. GenConnect Recruiting targets the recruitment of millennials, those who are just joining the workforce or those that have less than 10 years of post-graduate work experience.
GenConnect Recruiting is proud to announce during its first year of business, it has successfully placed over 20 job seekers, built relationships with over a dozen employers and is currently coaching over 35 individuals in its exclusive professional development program.
The company's unique approach to recruiting is multifaceted, as the GenConnect Recruiting's founders place a strong emphasis on providing a variety of services, such as its one-year coaching program for every placed job seeker, to help employers develop and train their new hires to become established assets for their businesses.
GenConnect Recruiting's process is seamless for both the job seekers and employers. "GenConnect is not like other recruiters. They don't drop you in a job and move on, which I found really impressive," said one GenConnect Recruiting job seeker.
From the moment job seekers apply until the end of their first year with their new company, GenConnect Recruiting is involved through the entire process to ensure their goals are met. Employers are also met with a thorough process by providing services such as strategic planning, employee onboarding services, access to candidate introduction videos and more.
"We are so pleased with how far GenConnect Recruiting has come over the last year," said Leigh Lones, Founder. "Regardless of the job seeker or employer's needs and goals, we have created a process that is unique and thorough." GenConnect Recruiting is spearheaded by its seasoned founders, who have decades of experience in human resources, recruitment, management and career development. "We are looking forward to years of continued success and plan to continue to be disruptive with our recruiting methods," Kerry Higley, Founder.
About GenConnect Recruiting
GenConnect Recruiting is a firm that specializes in the recruitment and hiring of talented candidates for small- to medium-sized businesses in a variety of industries. The innovative firm offers a full range of services to support both the employer and job seeker before, during and after the hiring process. From career employee benefits and HR policies to career coaching and financial planning, GenConnect Recruiting is a unique resource in today's competitive market. To learn more, visit http://www.genconnectrecruiting.com.