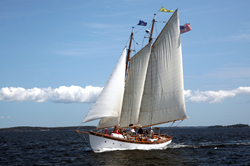 Our adventure travel trips feature all of the things about Maine that people know and love, offered in way that only L.L.Bean can deliver on.
Freeport, ME (PRWEB) June 06, 2017
The L.L.Bean Outdoor Discovery Schools is pleased to announce their menu of dynamic, once-in-a-lifetime adventure trips for 2017, carefully developed to highlight the very best that Maine has to offer, delivered in a way that is uniquely L.L.Bean.
NEW--Maine Woods Adventure Trip is an ultimate outdoor experience that gives participants the ability to discover the best of Maine by land, air, and water during this all-inclusive multi-activity adventure.
Trip highlights include:

Guided day hikes to iconic locations
Scenic float plane tour
Coaching by world-class instructors in fly fishing
Whitewater rafting down the Kennebec River
Moose watching by pontoon boat
Cozy lodges and cabins surrounded by incredible scenery
Ultimate add-on fly fishing experience with a local guide
NEW--Discovery Weekend Outdoor Adventures Trips feature two full days of six different outdoor adventures, a succulent lobster or steak dinner set amongst an incredible seaside location.
Trip highlights include:

Paddle to a favorite destination by kayak
Learn how to stand up paddle board
Tour scenic routes by road bike
Try your hand at fly casting and wing shooting
Practice hitting the bull's-eye with a bow and arrow
Camping at our beautiful coastal venue
Delicious Maine-inspired cuisine
The Great Maine Adventure with L.L.Bean gives people the ability to experience quintessential Maine by land and sea. This 7-day one-of-a-kind adventure features kayaking, hiking and biking to some of Maine's most scenic and iconic destinations.
Trip highlights include:

Lodging and dining at award-winning restaurants and inns
Guided coastal bike tour including visiting three lighthouses
Sea kayaking on Casco Bay with a lobster bake lunch on a picturesque island
Guided hike on Mount Megunticook with panoramic views of Penobscot Bay and Camden harbor
Schooner ride on Penobscot Bay
Private tour of L.L.Bean's Bean Boot manufacturing facility with your own pair of Bean Boots
Additional activities include semi-private guided instruction in fly fishing, stand-up paddleboarding or clay shooting, and more
Dinner at award-winning The Lost Kitchen restaurant with complimentary cookbook by head chef, Erin French
The Coastal Maine Hiking Trip is an unforgettable 8-day hiking adventure taking people to some of the most beautiful mountains and quaint villages found in Maine. This trip is guided by Distant Journeys Inc., a leader in hiking vacations for 28 years. During the day, participants will hike an average of 4 to 5 hours on varied terrain, learning about the Maine woods with an expert Maine wildlife biologist. During the evening, folks can relax in cozy B&Bs and country inns, all the while, experiencing delicious Maine-inspired cuisine.
Trip highlights include:

Scenic drive and ferry ride to Monhegan Island
Exploring Camden Hills State Park
Hiking and exploring world-famous Acadia National Park
Ferry rides to Maine's most charming islands
Wine tasting, museum visits, garden tours and more
The Western Maine Hut Hike is a European-style hiking experience through Maine's famed premier wilderness area, the Western Mountains. Offered during the fall, this trip gives people the ability to experience Maine's fall foliage at its peak, while learning about the Maine woods with an expert wildlife biologist. Evenings will be spent in the warmth and comfort of backcountry lodges and huts. This trip is guided by Distant Journeys Inc., a leader in hiking vacations for 28 years.
Trip highlights include:

Hiking with a Maine wildlife biologist and learning about Maine's flora and fauna
3 days of hiking in the Moosehead Lake Region
4 days hiking between Maine Huts and Trails' (hyperlink) huts, with amazing scenery and wildlife viewing
Canoeing the Dead River
Watching the avian spectacle of migration and much more
Two-Night Muscongus Bay Kayak Camping Trip features world-class kayaking and camping on a private island in beautiful Muscongus Bay.
Trip highlights include:

Paddling around the beautiful islands and inlets of Muscongus Bay
Watch working lobster boats; keep an eye out for seals, eagles, osprey, and other wildlife
A picnic lunch on a favorite island beach
A fresh lobster dinner
Settling in around the campfire
Spending a peaceful night in a comfortable tent
L.L.Bean Adult Adventure Camp in Freeport, Maine lets folks meet new friends, have lots of outdoor fun and enjoy classic camp activities with our two-night all-inclusive adventure camp for adults.
Trip highlights include:

A variety of classic summer-camp activities, such as kayaking, stand up paddle boarding, archery, fly casting, geocaching, orienteering, biking, SUP yoga, arts, and crafts and more
We'll also play group games like kickball and badminton, and have a bit of friendly competition among campers.
Plenty of time to relax around a campfire, swing on a hammock and lounge on an Adirondack Chair
After an action-packed day, campers will enjoy hearty and delicious meals prepared by our guides
Come nightfall, fun-themed events will continue, including an evening concert at L.L.Bean Discovery Park in Freeport on Saturday night
"Our adventure travel trips feature all of the things about Maine that people know and love, offered in way that only L.L.Bean can deliver on," said Gretchen Ostherr, senior manager for the L.L.Bean Outdoor Discovery Schools. "These are once-in-a-lifetime adventures, combining outdoor adventure, excellent food and accommodations, plenty of unique wildlife viewing opportunities and Maine culture."
The Outdoor Discovery Schools also offers dozens of shorter courses and tours in Maine and everywhere L.L.Bean has a retail store for activities such as fly fishing, archery, shooting, kayaking, biking, stand-up paddleboarding, bird watching, canoeing, hiking, snowshoeing, cross-country skiing, as well as women's-only adventures. In addition, at each of its retail stores throughout the country, L.L.Bean offers a host of free clinics and demonstrations on a range of topics from navigating with a map and compass, fly tying, hiking, to trail running and more.
To review the full host of L.L.Bean Outdoor Discovery School offerings, their locations, and dates and to register online, visit http://www.llbean.com/adventure for more information, call 888-552-3261.
About L.L.Bean Outdoor Discovery Schools
Since 1979, the L.L.Bean Outdoor Discovery Schools have been offering a variety of courses, trips, tours, seminars, and clinics for activities such as kayaking, cycling, fly fishing, camping, hiking, stand-up paddle boarding and much more. The guiding principals have always remained the same: to promote an enjoyment of the outdoors by making it as easy as possible for people to engage in outdoor activities and to foster an appreciation and respect for our natural environment. These foundations are inherent in every program offered, whether it is a two-hour fly casting lesson, a half-day tour or a three-day trip. Last year, over 150,000 people participated in L.L.Bean Outdoor Discovery School programs.
# # #