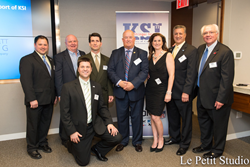 The Pennsylvania Athletic Trainers' Society (PATS) members work tirelessly to Promote, Advocate, Transact business, and Serve its members to advance the field of Athletic Training in Pennsylvania.
Harrisburg, PA (PRWEB) June 08, 2017
Since its inception in 1975, the Pennsylvania Athletic Trainers' Society (PATS) has worked tirelessly to Promote, Advocate, Transact business, and Serve its members to advance the field of Athletic Training in Pennsylvania. As a result, we have seen the state and federal legislature pass valuable legislation which greatly affects the profession of Athletic Training. The more events throughout the state, region and nation that PATS can be a part of, the stronger the effort becomes in achieving our overall goals.
On May 12, a delegation from PATS attended an event, hosted by the Korey Stringer Institute (KSI), at the National Football League Headquarters in New York City. One of the honorees of the event was National Athletic Trainers' Association (NATA) Past President Jim Thornton. Thornton was presented with the KSI Lifesaving Service Award, which recognizes exceptional service to improve policies and advocate for the adoption of policies in order to reduce sudden death in sport.
A PATS group then continued travels on May 16th. PATS President Guy Sanchioli, President-Elect George Roberts, Past President John Moyer and District 2 Representative AJ Duffy joined athletic trainers from 44 other states in Washington DC for NATA Capitol Hill Day. US Representative Phil Sessions gave a tour of the US Capitol Building. The group was then able to meet with various other US Representatives and Senators from Pennsylvania. The Licensure Clarity Act, along with the ability for veterans to use GI Bill credits toward licensure examinations were among topics of conversation with the legislators. President Guy Sanchioli reflected on the day: "we were encouraged by the amount of support and knowledge of Athletic Training shown by the staffers and congressmen that we spoke with."
Back in Harrisburg on May 18th, PATS President Guy Sanchioli presented at press conference held by Pennsylvania Representative Dan Miller. The press conference introduced House Bill 1176. This bill would protect Pennsylvania law enforcement by creating a concussion and head injury protocol similar to the protocol already in place for athletes in Pennsylvania. Rep. Miller introduced the bill after Pennsylvania State Trooper Bill Feineigle shared his experiences of two head injuries on the job in 2002 and 2003. Trooper Feineigle, who suffered from second impact syndrome, has been on limited-duty status out of Troop B station in Washington, PA due to his history of head injuries. House Bill 1176 is supported by the Fraternal Order of Police and Representative Dom Costa. PATS is considered a state agency that has expertise in the area of traumatic brain injury, and therefore has been asked to assist in writing this concussion protocol for HB1176. This bill has been passed unanimously by the House Health Committee, has been passed in the Pennsylvania House of Representatives and now awaits action by the Pennsylvania Senate.
Simultaneously on May 18th, PATS presented a ConcussionWise program at Central Dauphin East High School. John Moyer and PATS HOF Dr. Cordas were the featured presenters hosted by Jeff Shields. The event, which was made possible by the Department of Health grant, was opened to the entire community. This was a great opportunity for one-on-one interactions and questions regarding concussions and head injuries.
PATS work was not yet over in Harrisburg. On May 24th, a group from PATS (Guy Sanchioli, Roxanna Larsen, Tanya Miller, Ashley Care, and Kyle Shireman) met at The Winter Group, PATS lobby group, to prepare packets of information about PATS and Athletic Training. The goal of the day was to educate legislators about the profession and the benefits athletic trainers provide to the physically active. The group then distributed the packets to the offices of 30 freshman legislators and encouraged support for HB1176. Group members were well-received. This event was important for educating freshman legislators and to develop contacts for future legislative goals.
For more information regarding this topic or to schedule an interview with PATS President Gaetano Sanchioli, MS, LAT, ATC, PES (president(at)gopats.org), please contact Linda Mazzoli, MS, LAT, ATC, PATS Executive Director at patsexecutivedirection(at)gopats.org.
The Pennsyvlania Athletic Trainers' Society, Inc. is a progressive organization of licensed health care professionals who work under the direction of a licensed physician. Our society continues to increase public awareness and education regarding athletic trainers and the athletic training profession while serving as the premier source of information for public safety, injury and illness, early intervention, patient care and healthcare delivery for the physically active in the Commonwealth.
"The Keystone to a Healthy and Physically Active Life"