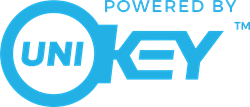 UniKey is moving your entire keychain to your phone.
Orlando, FL (PRWEB) June 14, 2017
From your house keys, to your office, and even your car, the leaders in smart access control, UniKey Technologies, has gained support from existing lead investors, such as ff Venture Capital, Asset Management Ventures and Samsung NEXT, as well as two new strategic investors. Known by most for contributing their technology to Kwikset's Kevo smart lock, and with its recent announcements of partnerships with Nortek and Grosvenor, UniKey now has a foothold in the residential and commercial IoT industries. "We're excited to continue our support of UniKey's growth and market leadership in residential access control and their steady expansion into commercial," said Amit Garg, Principal at Samsung NEXT Ventures.
Since inventing the smart access control space in 2010, the company has equipped thousands of homes with sophisticated smart lock technology, resulting in over 160 million doors locked and unlocked in over 65 countries worldwide. UniKey plans to expand its reach further, by taking its secure mobile key platform to offices and connected ecosystems. It's the logical next step for the company that simplifies the way people use their keys.
Phil Dumas, Founder and CEO of Unikey, states, "Consumers today leave their homes and do the typical phone, wallet, keys check. I think in the very near future you're just going to do the phone check. Google, Apple and Samsung are moving your wallet into your phone. UniKey is moving your entire keychain to your phone."
To support this expansion, UniKey plans to increase hiring this year by adding additional software engineers to the team. Dumas states, "UniKey is being viewed as the industry's hub of innovation. We're happy to hold that position here in Orlando, and look forward to bringing more tech innovation to the area."
###
About UniKey
UniKey Technologies is the industry leader and pioneer of smart lock and access control technology. UniKey provides companies and manufacturers the ability to rapidly develop and deploy smart lock or access control products on a proven, scaled and secure platform. For more information about UniKey Technologies, please visit http://www.unikey.com.