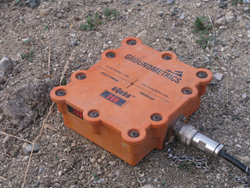 When you can measure something, you can manage it better.
San Diego, CA (PRWEB) June 08, 2017
GroundMetrics Inc., a world-leading electromagnetic sensor system company and oil and gas technology pioneer, will be monitoring CO2 in the subsurface through a new project selected for award by the US Department of Energy (DOE).
GroundMetrics already uses its propriety resistivity sensors and software to address many applications on the oilfield, including Enhanced Oil Recovery (CO2 and steam). But the same electromagnetic imaging technology can also be used to map the CO2 injected for carbon capture and storage (CCS).
The International Energy Agency estimates that CCS technology offers the potential to lessen net CO2 emissions by up to 85‐95% compared to the same process without CCS. However, there have been delays in CCS deployment in part due the lack of a regulatory framework for long‐term liability for negative impacts of any leakages from underground storage facilities. This means that effective monitoring, verification, and accounting (MVA) for CO2 is critical to the initiation and success of these projects.
CO2 is also extremely useful for the Enhanced Oil Recovery (EOR) process and industry-wide, CO2 injection represents 30% of total production costs on EOR fields. There is a need to image the CO2 injection profile in the reservoir to ensure the gas stays in the target zone and to optimize the EOR process by monitoring areal and vertical sweep efficiency.
In partnership with DOE, GroundMetrics will develop a continuous monitoring system to measure resistivity changes. If the test is successful, it will allow oil companies and sequestration managers to better monitor CO2 saturation, allowing them to improve operational efficiency and efficacy, verify MVA, and maximize oilfield productivity. The effort is a part of an ongoing collaboration with DOE and the forth grant using GroundMetrics technology to monitor CO2 dating back to June 2012.
"By seeing what's really going on underground, this technology will advance both carbon sequestration and Enhanced Oil Recovery," said George Eiskamp, CEO at GroundMetrics. "Imaging CO2 gives operators the data and insights they need to make the critical decisions that are vital to the success of any project. When you can measure something, you can manage it better."
GroundMetrics Inc. is a world leader in the development of electromagnetic sensor systems and data analytics tools. The company takes a pragmatic approach to rapid innovation and its proprietary technologies provide unique insights about the subsurface. GroundMetrics offers full-field survey and monitoring services as well as partnership opportunities to oil and gas, geophysical service, and mineral exploration companies. Connect at http://www.groundmetrics.com or on Facebook, Twitter, and LinkedIn.