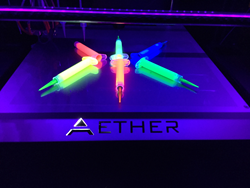 "I'm very excited to join the team at Aether. I believe Aether's bioprinting technology can make a substantial positive impact on medical research, and I'm looking forward to contributing to this thrilling field."
San Francisco, California (PRWEB) June 07, 2017
Today Aether announced the company will develop a brand new line of bio-inks, spearheaded by Aether's latest hire, Science Director Karen Dubbin.
Aether believes the nascent, but rapidly growing, bio-ink market is ripe for disruption by Aether's passionate commitment to advancing humankind by creating powerful technologies and selling them at incredibly affordable prices.
Aether's founding philosophy with 3D bioprinters was to make something better than anything else out there, and sell it at an unbelievable value. Now Aether will take this same philosophy and apply it to the burgeoning bio-inks market.
Aether intends to develop higher quality bio-inks than any other company, yet sell them at the lowest price on the market.
The key to unlocking the true potential of the bio-ink market is to work with the scientist Aether considers to be the very best person for the job. Aether believes that in Karen Dubbin the company has found the single most talented and capable person to lead this effort.
Karen Dubbin has attended MIT and Stanford and will receive her PhD from Stanford at the end of this summer, after which she will join Aether full-time as the company's Science Director. Until then, she will work with Aether as a consultant to build the foundation for Aether's upcoming bio-ink research and bio-ink product launch.
Karen Dubbin will collaborate with Aether CEO Ryan Franks and Aether's amazing team of talented engineers to launch an introductory line of bio-inks, which the company expects to be available late 2017.
Aether Science Director Karen Dubbin said, "I'm very excited to join the team at Aether. I believe Aether's bioprinting technology can make a substantial positive impact on medical research, and I'm looking forward to contributing to this thrilling field."
In her young career, Karen Dubbin has already pioneered bio-ink research at Stanford University as part of the Heilshorn Biomaterials Group, and laid the foundation for Stanford's bio-ink research to flourish after her departure.
She completed her B.S. at MIT in Materials Science and Engineering, where her research alongside incredible scientists such as Ali Khademhosseini and Harvey Lodish has been published in Advanced Materials, and the Journal of Biological Chemistry.
Since then, she received her M.S. and will soon receive her Ph.D. in Materials Science and Engineering from Stanford working with Sarah Heilshorn. At Stanford, Karen was awarded the Bio-X Bowes Fellowship and has given multiple talks at the Tissue Engineering and Regenerative Medicine International Society World Congress, World Biomaterials Congress, and the Materials Research Society where she was able to present her research in both bioprinting and spinal cord regeneration to a range of elite scientists from across the globe. Additionally, work from Karen's PhD has been published in peer-reviewed journals such as Advanced Healthcare Materials.
The Aether 1 bioprinter is the most advanced 3D bioprinter in the world. The combination of the world's most advanced bioprinter, Aether's relentless drive to advance mankind, and the one-of-a-kind biomaterials skill set of Karen Dubbin, puts Aether in a stronger position than any company on Earth to dominate the bio-ink market and give society the massive benefits of the bioprinting revolution.
About Aether:
Aether is a San Francisco technology start-up and the creator of Aether 1 Bioprinter, the world's most advanced 3D bioprinter.
Aether 1 allows users to print with up to 24 materials including filaments, liquids, viscous pastes and gels. Aether 1 features up to 8 different fabrication methods, and comes with 4 completely revolutionary automation features utilizing technologies such as machine vision.
Despite being the world's most advanced 3D bioprinter, Aether plans to sell base units of the beta edition for $9,000, a tiny fraction of their actual value.
Find out more: