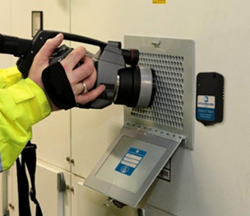 Bradenton, Florida (PRWEB) June 12, 2017
The Delta T Alert, Wireless Temperature Monitoring System by IRISS has been updated with new and improved features. These features expand and refine the user experience, allowing for more refined control of the system, its functions, and provide them with the full reporting capabilities to properly watch over their critical assets. The improvements include:

New user interface and design.
Refined graphing features.
The ability to enable/disable the audible alarm.
Critical polling allowing users to define alarm thresholds that trigger minute by minute reporting.
Improved reporting features allowing the export of full or weekly reports.
Improved temperature setting controls.
Improved notification details with the inclusion of your company details.
Daily summary settings to receive system reports on a user defined interval.
Sensors are now available with Temperature + Humidity or Temperature only.
IRISS, the global leader in Electrical Maintenance Safety Devices and Solutions continues to expand the innovative products that facilitate Condition Based Maintenance energized inspections on electrical distribution assets. For more information about the full line of Electrical Maintenance Safety Devices and Solutions from IRISS visit us at: http://www.iriss.com.