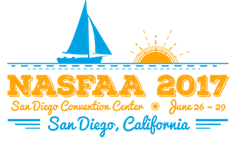 NASFAA policy staff will lead a Policy Town Hall to give up-to-date information on what's buzzing on Capitol Hill, at the Department of Education, and the White House.
(PRWEB) June 08, 2017
Later this month, nearly 3,000 financial aid professionals from across the United States will gather in sunny San Diego to teach, learn, network, and share best practices for the most pressing student aid issues for students and schools.
The conference will kick off Monday with an opening address from ABC News veteran and host of "What Would You Do?" John Quiñones. Quiñones' moving presentations focus on his odds-defying journey, celebrate the life-changing power of education, champion the Latino-American dream, and provide thought-provoking insights into human nature and ethical behavior.
In addition to the many great training, advocacy and professional development sessions offered, on Tuesday, June 27 at 3:15pm NASFAA will host a Fight for Financial Aid Kick-Off Event. Deep cuts proposed to vital student aid programs close the door for countless students nationwide who rely on financial aid to pay for college. This event will give attendees the chance to raise their voices in support of NASFAA's ongoing #Fight4FinAid campaign developed to shine a light on potentially devastating cuts to financial aid.
Attendees will also have the opportunity to hear from 2016-17 NASFAA National Chair Lisa Blazer, NASFAA President Justin Draeger, and representatives from the U.S. Department of Education (ED). In a Federal Update session Wednesday morning, ED staff will present information about current issues for the Title IV student aid programs and provide updates about the Department's activities and initiatives. Also on Wednesday, NASFAA policy staff will lead a Policy Town Hall to give up-to-date information on what's buzzing on Capitol Hill, at ED, and the White House. Later in the day, Blazer and Draeger will discuss recommendations put forth in NASFAA's recent task force report on improving oversight and transparency at ED's Office of Federal Student Aid (FSA) and strengthening the partnership between FSA and postsecondary institutions.
Other sessions that may be of interest to the media include:

Cost of Attendance: Is More Standardization Needed?
Dual Enrollment Pell Grant Experimental Sites Initiative
Re-examining Paradigms of Campus-based Aid Listening Session
Helping "First in Family" Students Develop a College Roadmap
What is "Affordable" for 21st Century Students? Examining Net Price Through a Student Lens
Student Debt: Rhetoric and Realities
Emergency Resources for Students
Using Federal Law, Research, and Practice to Improve Diversity Efforts in Scholarship Awards
Don't miss out on all the action! View the full conference schedule, and join us in San Diego, CA, June 26-29.
Please visit NASFAA's conference Media Center for more information. To request an interview with a NASFAA spokesperson during the conference, or seek a complimentary media registration, please email powerse(at)nasfaa(dot)org.
About NASFAA
The National Association of Student Financial Aid Administrators (NASFAA) is a nonprofit membership organization that represents more than 20,000 financial aid professionals at nearly 3,000 colleges, universities, and career schools across the country. NASFAA member institutions serve nine out of every ten undergraduates in the United States. Based in Washington, D.C., NASFAA is the only national association with a primary focus on student aid legislation, regulatory analysis, and training for financial aid administrators. For more information, visit http://www.nasfaa.org.