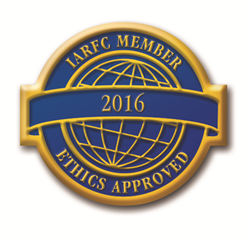 "We are committed to giving our members value-added benefits for their membership. This approval rating process is just one of the programs we offer to our Association consultants."...IARFC Chairman H. Stephen Bailey
Middletown, OH (PRWEB) June 09, 2017
Designated members, (RFC®, RFA®) need to have a clean record for the preceding five (5) years in order to qualify for the Ethics Approved Program. Those who meet these standards will receive an embossed seal stating they are "Ethics Approved" with the year of the review and is effective for two years.
"I am certainly delighted to see the approval rate of our members so far," commented http:// IARFC Chairman H. Stephen Bailey, MRFC. "We are committed to giving our members value-added benefits for their membership. This approval rating process is just one of the programs we offer to our Association consultants."
To obtain this level of confidence, the IARFC Team reviews all RFC®, RFA® membership renewals submitted to the Association and rewards members for their long-term commitment to the IARFC Code of Ethics. They check FINRA records, state licensing records and even conduct an internet search of each member's name. Reviewed history includes personal or business bankruptcies, compromised credit issues, any pending customer disputes, regulatory events and/or criminal misdemeanors or felonies.
Since the program's inception in September of 2016, the IARFC has developed branding items to for members to convey this elevated status to their prospects and clients. Vicki Caplinger in IARFC Membership Services, weighed in on the significance of the these items and how the members can utilize their approved status. "Members receive Ethics Approved branding recognition in the form of digital logos, embossed seals and sample media releases. Additionally they can purchase desk plaques for display available online at the IARFC store."
"Those members who hold the Ethics Approved designation are the top financial consultants available," explains IARFC Vice Chairman Nicholas Royer, RFC®. "With all the changes in the financial world in the last few years, this additional attention to ethics raises the bar once again."
To become a member of the IARFC and discover the comprehensive benefits available to financial professionals, visit http://www.iarfc.org or contact member services at info@iarfc.org.