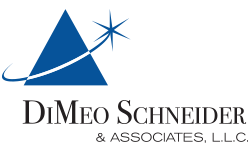 Chicago, IL (PRWEB) June 16, 2017
DiMeo Schneider & Associates, L.L.C. (DiMeo Schneider), a nationwide investment consulting firm has agreed to purchase ORION Investment Advisors, a leading Registered Investment Advisor (RIA) located in McLean, Virginia. The acquisition is scheduled to become effective during the second quarter and all 11 ORION professionals will join the 70 associates at DiMeo Schneider.
ORION was founded over 25 years ago and advises institutional and private clients across the country. Its broad range of investment and consulting services include investment policy statement development, portfolio construction, asset allocation strategies and manager due diligence. The firm advises on approximately $1 billion in client assets as of January 1, 2017.
DiMeo Schneider advises hundreds of retirement plans (defined contribution and defined benefit), nonprofits, private clients and financial institutions in over 35 states. It has over $66 billion in assets under advisement as of January 1, 2017. This marks the third location for DiMeo Schneider. The firm recently opened a second office in Austin, Texas and is headquartered in Chicago.
Bob DiMeo, Managing Director of DiMeo Schneider, said, the transaction provides a strategic opportunity for both organizations. "We're excited to welcome ORION and their talented professionals. This combination is a natural in that both firms are highly collaborative and strive to always place client interests first. This also nicely expands our efforts to serve our east coast clients and enables ORION to leverage DiMeo Schneider's robust capabilities."
Rob Olcott, Managing Director of ORION, said, "In joining forces with DiMeo Schneider, I couldn't be more pleased for our clients and our colleagues. It's a given that their experience and size will benefit our clients, however, we're equally delighted that their people and culture very much align with our own firm."
DiMeo Schneider is recognized as a top 40 worldwide investment consulting firm by assets under advisement by Pensions & Investments for the past seven years. The firm ranks as a "Top 25 RIA Financial Advisor" by Financial Advisor based on 2015 year end assets.
About DiMeo Schneider & Associates, L.L.C.
Founded in 1995, DiMeo Schneider & Associates, L.L.C. is dedicated to investment consulting. The firm's core mission is to provide strategic, client-centric investment consulting services to retirement plans, nonprofit organizations and private clients. Investment consulting is our business. We offer no proprietary investment products, nor do we accept commissions or compensation from any third parties. As a nationwide firm, our main goal is to provide unbiased advice that addresses clients' unique concerns, obligations and goals.
Learn more by clicking here: https://www.dimeoschneider.com/
CONTACT:
Jenna Friedman, Marketing Manager
DiMeo Schneider & Associates, L.L.C. 312-853-1000 x 4149
jfriedman(at)dimeoschneider(dot)com