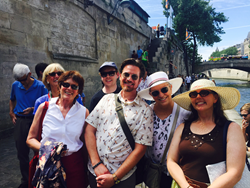 I'm thrilled to explore my favorite city with these talented writers, taking them to Hemingway's hangouts … to inspire terrific writing.
Denver, Colorado (PRWEB) June 13, 2017
The Left Bank Writers Retreat has begun in Paris, France, with writers exploring the city through the history of Ernest Hemingway and his Lost Generation cohorts and finding writing inspiration in iconic Paris settings. This week's retreat is the 10th edition of the popular small-group writing workshop and literary tourism experience that host Darla Worden founded in 2010.
This year's Left Bank Writers Retreat boasts writers from across the U.S. – including Colorado, Texas and Tennessee – as well as Canada. Attending writers will learn Hemingway tips and techniques in morning writing sessions, share the Parisian café scene for lunch and spend afternoons visiting important Hemingway haunts. Posts on the Left Bank Writers Retreat Facebook page during the six-day writers' workshop offer the opportunity to live the Paris writing experience vicariously.
"This year's retreat is special, since it's the 10th one I have hosted in Paris," says Worden. "I'm thrilled to explore my favorite city with these talented writers, taking them to Hemingway's hangouts and other notable spots to inspire terrific writing and creativity. I hope that other travelers and writers will enjoy our daily Facebook posts as we share our experiences and inspirations."
Writers unable to make the Paris trip this year still have time to enjoy a firsthand experience of some of Hemingway's favorite places while building their own literary oeuvres this summer. Worden also is offering a U.S. weekend retreat in her home state of Wyoming this August 11 – 13, 2017. Called "Hemingway's Wyoming," the U.S. writing workshop begins and ends in Sheridan, Wyoming, where Hemingway – who first visited Wyoming in 1928 – finished his novel A Farewell to Arms.
Writers in the Hemingway's Wyoming weekend will stay at the Spear-O-Wigwam dude ranch in the Bighorn Mountains where Hemingway fished and wrote, visiting the cabin where he stayed. The price for the three-day writing workshop and literary experience is $449 per person and includes transportation to and from Sheridan to Spear-O-Wigwam, accommodations in rustic cabins, all meals on Friday and Saturday, breakfast on Sunday, canoes, morning writing exercises and workshops and evening readings. Online registration for the Wyoming writers retreat is available here.
The Left Bank Writers Retreat is named for the now-famous writers who lived on Paris's Left Bank during the 1920s. Ernest Hemingway, Gertrude Stein, Ezra Pound, James Joyce and F. Scott Fitzgerald are some of the expats who wrote in Paris, congregating in the city's cafes and bars to share ideas. During the June retreat, participants experiment with many of the Left Bank writers' techniques.
About Left Bank Writers Retreat:
Left Bank Writers Retreat founder and writer Darla Worden lives in Denver, Colo., and Paris. Worden, who is editor in chief of Mountain Living magazine, has written widely for magazines and authored several books. Worden is currently working on a book about Hemingway's Paris. Now in its eighth year, the Left Bank Writers Retreat takes place in June on the historic Île Saint-Louis in the heart of Paris. Visit http://www.leftbankwriters.com for information and follow on Facebook.
Media Contact: Amy Stark, Word PR + Marketing, amy(at)wordprmarketing(dot)com, 303.777.7667