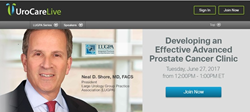 We are thrilled to further expand our online educational offerings to include a channel that will allow urologists to connect online with world-renowned medical experts in a live, interactive setting.
Boston, MA (PRWEB) June 14, 2017
PlatformQ Health, the leading provider of live-online medical education events announces its collaboration with LUGPA (Large Urology Group Practice Association), a medical trade association that represents more than 2,300 U.S. urologists, administrators and their independent urology group practices, to kick off the launch of UroCareLive, an online learning platform that includes features of a live medical conference, via a monthly Virtual Crossfire Event Series.
UroCareLive offers live streaming video lectures, panel discussions and case presentations, as well as interactive activities such as real-time question and answer sessions with top faculty and other participants. The newest medical learning channel from the PlatformQ Health network, UroCareLive represents PlatformQ Health's continuing mission to deliver the most timely, relevant, reliable education to HCPs and patient audiences in partnership with leading institutions and therapeutically aligned organizations.
"We are thrilled to further expand PlatformQ Health's online educational offerings to include a channel that will allow urologists and others involved in urology care an opportunity to connect online with world-renowned medical experts in a live, interactive setting," says CEO Robert Rosenbloom. "Our collaboration with LUGPA makes UroCareLive's introduction even more meaningful, as many of the nation's urology practices prepare to participate in the inaugural series focused on addressing the clinical and business topics that are most important to urologists today."
UroCareLive's first program, Developing an Effective Advanced Prostate Cancer Clinic, will air live online June 27, 2017 at 12:00 PM EST, featuring:

Dr. Neal D. Shore, MD, FACS, President, LUGPA (Large Urology Group Practice Association)
Earl L. Walz, CEO, The Urology Group
Bob Asinof, CEO, Urology Center of Colorado
Dr. Paul R. Sieber, MD, President and Medical Director of Research, Lancaster Urology
Dr Bryan A. Mehlhaff, MD, Oregon Urology Institute
Participants are able to submit questions for the expert panel prior to and during the live broadcast, allowing presenters to respond in real time, combining benefits of in-person interactive education with the convenience of digital access.
The first of a regular Virtual Crossfire Event Series, the program will kick off a year's worth of interactive online events for LUGPA members and the greater urology community. Select programs will be eligible for CME credit. Other programs in development include…
Immunotherapy for Bladder Cancer
Developing an Effective Advanced Bladder Cancer Clinic
Health Policy: Update & Impact of Healthcare Reform and Policy
Navigating the Financial Aspects of Practice Management
The Future of Urology Practices: Independent, Hospital-Owned or Private
Peyronies, Implants & Sphincter Therapies
The enduring, virtual education series will be available free of charge and is recommended to any physician, administrator, or other healthcare provider interested in developing or the business of an effective advanced prostate cancer clinic. LUGPA members will have the added benefit of watching and participating in the live online broadcast June 27 at 12PM EST.
"LUGPA continuously strives to deliver practical and real-world value to our independent urology practice members through convenient, frequent and novel educational initiatives. We are very pleased to now offer information dissemination through live, interactive online programs via UroCareLive," said Neal D. Shore, MD, LUGPA President.
Participants can pre-register for this and future live and enduring events at UroCareLive, while questions for the initial program's panel can be submitted here. For more information about UroCareLive and LUGPA's 2017 monthly Virtual Crossfire Event Series, visit our UroCareLive.com or lugpa.org.
About LUGPA
LUGPA currently represents more than 25 percent of the nation's urology practices, comprising more than 2,300 members, who account for approximately 30 percent of urologic care in the United States. The Association is committed to providing the best resources to its member practices through advocacy, research, data collection and benchmarking efforts. LUGPA advocates for independent urology practices by promoting quality clinical outcomes, fostering new opportunities and improving advocacy in legislative and regulatory arenas.
About PlatformQ Health
PlatformQ Health is the leading provider of live, online medical education events, operating 16 therapeutically aligned learning channels dedicated to providing clinicians, patients, caregivers, advocates and administrators rigorous, outcome-centric education aimed at improving patient care. The company's unique education platform allows physicians and other healthcare professionals to connect online from anywhere, to learn about the latest treatments options, and engage in real-time discussion with scientific, research and patient care experts.