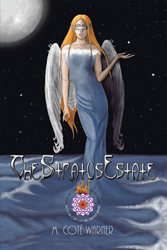 EAGLE RIVER, Alaska (PRWEB) June 13, 2017
Author M. Coté Warner has released her debut novel, "The Stratus Estate," a science fiction and fantasy tale that takes place in the utopian World of Tarkenwore. The first of a planned trilogy, the story is told through the eyes of main character Phillip Stratus who lives in the very distant utopian future.
There is something different about Phillip – he lives with his large, quirky, adoptive family, all of whom are powerhouse players in the City of Tarkenwore; and he is best friends with Vive Tarkenwore, the heir to the prodigious throne of Earth. Vive is the conceptual child of Queen Nacthelian and King Hasamelis, very tall supernatural beings that have ruled the planet for 2,000 years. Phillip and Vive have many unusual adventures together before the age of 14. However, they soon begin to discover exactly what makes Phillip different from all other Terrans.
The compelling story not only entertains, but also delves into philosophies of morality and economics, the future of technology and physiology, and what it might be like if a perfect being were the puppet master.
Warner, not just an author but also an accomplished artist, has spent more than 10 years of imagining, drawing, conceptualizing, and writing to bring "The Status Estate" to life all the while battling an extreme illness she is still recovering from.
"There have been tears of sadness, tears of joy and tears of apathy," said Warner. "But through all the tears, Phillip and Vive's story has finally been brought to the world."
Inspired by the works of authors such as J.R.R. Tolkien, C.S. Lewis, and J.K. Rowling, Warner is excited to introduce readers to her own science fiction and fantasy world and looks forward to continuing the adventures of Phillip Stratus in upcoming installments of the trilogy.
"The Stratus Estate"
By M. Coté Warner
ISBN: 978-1-5434-1063-1 (HC), 978-1-5434-1064-8 (SC), 978-1-5434-106204 (E)
Available at Deinoncote Studios, Barnes & Noble, & Amazon
About the author
Morgan Coté Warner was born and primarily raised in Anchorage, Alaska. She is an alumna of Soldotna High School, a well-regarded academic institution located in Alaska's Kenai Peninsula and graduated with a BA in Psychology from the University of Hawaii at Hilo. Dissatisfied with the real world, it was at UHH where Warner began to imagine and build the world and characters of Tarkenwore. She moved back to Anchorage from the Big Island a couple years after finishing college and resumed a career in the human services. Despite a promising career, she was diagnosed with a severe and devastating chronic illness in 2010. After many years of sickness and being unable to work at much other than writing and creating a large portfolio of digital art, "The Stratus Estate," her first novel, is her reintroduction to the world of healthy, functional people. Morgan now lives in Eagle River, Alaska with her boyfriend and two goofy dogs. To learn more about Warner please visit http://www.deinoncote.com.
Review Copies & Interview Requests:
LAVIDGE – Phoenix
Lauren Dickerson
480-998-2600 x 601
ldickerson(at)lavidge(dot)com