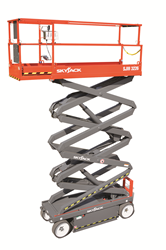 This special offer lets you rent the quality you buy at an affordable price.
San Diego, CA (PRWEB) June 19, 2017
Hawthorne Cat, the exclusive Cat® equipment dealer in San Diego, the Hawaiian Islands and the Pacific Region, announces a limited time rental offer for June and July only. Rent the Skyjack SJIII 3226 DC Electric Scissor Lift for only $660 per month (regularly $975 per month). Offer is valid for San Diego customers only and expires on July 31, 2017.
The Skyjack SJIII DC Electric Scissor Lift gets the job done. It boasts a 32-inch wide platform that reaches a maximum height of 26 feet, yet is narrow enough to fit through standard doorways. It also features a lifting capacity of 500 lbs. Additional features include full height drivability, dual holding brakes, rear two wheel hydraulic drive, low voltage battery protection, all motion audible alarm, and relay based control system.
According to Corporate Rental & Used Equipment Manager Greg Vena, "This special offer lets you rent the quality you buy at an affordable price." Vena continues, "Hawthorne Rentals is dedicated to providing the best selection of Cat and Allied brand equipment with unmatched customer service. Make us your first call!"
Visit the Hawthorne Cat website or call 800.437.4228 to learn more.
About Hawthorne Cat
Hawthorne Cat is the authorized dealer for Cat construction and power equipment in San Diego, Hawaii, Guam, Saipan and American Samoa. Hawthorne sells, rents, provides parts and service, training and emission solutions to various industries including general building construction, landscaping, marine, paving and power generation. For more on Hawthorne Cat, visit http://www.hawthornecat.com.