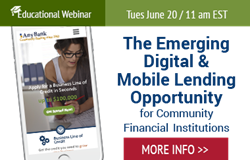 Financial institutions need to accelerate investments in digital lending if they are to avoid a material decline in profits and loss in market share.
(PRWEB) June 13, 2017
BSG Financial Group, a leading provider of revenue-enhancement programs and compliance solutions for financial institutions nationwide, will present a webinar on Tuesday, June 20 at 11 a.m. EST entitled, "The Emerging Mobile and Digital Lending Opportunity for Community Financial Institutions." The free webinar—which is part of an ongoing educational series that the company provides for its clients and potential customers—will instruct community institutions how to efficiently deliver e-signed consumer loans under $30K and small business loans under $100K in only minutes on computers and mobile devices for a superior customer experience.
BSG Financial Group is hosting this webinar to help community institutions address the fact that most of their checking and share draft account holders hold these types of loans elsewhere, putting their existing relationships and growth at risk. The advisory group Bain & Company concurred with this threat, saying financial institutions "need to accelerate investments in digital lending if they are to avoid a material decline in profits and loss in market share."
In the 60-minute session, speaker Bob Giltner of RC Giltner Services, Inc. will instruct institutions how cloud-based digital lending technology can increase efficiency by as much as 80% to profitably deliver these loans, while providing an exceptional customer experience. He will also explain how the cloud-based technology provides sound underwriting completely under the financial institution's control, as well as automated risk rating, credit monitoring and compliance, while keeping account holder data safe and secure.
The webinar will also address:

The $30 billion income opportunity for community banks documented by multiple studies, AND the potential ROA your institution could enjoy.
The requirements of customers today for a digital and mobile lending experience.
How digital lending manages loan applications, adverse action, Reg B and other compliance efficiently and with no paper or staff time.
How the institution controls underwriting, compliance and data security.
How digital marketing drives digital loans for small business and consumer segments.
Who: BSG Financial Group in conjunction with RC Giltner Services, Inc.
Presenter: Robert C. Giltner
When: Tuesday, June 20 at 11 am EST
Registration: http://www.bsgfinancial.com/emergingopportunity
Who Should Attend: Chief Executive Officers; Chief Information Officers; Chief Credit Officers; Chief Retail Officers; Chief Marketing Officers; Electronic Banking & Digital Banking Officers and Senior Lenders
 
About BSG Financial Group
Louisville, Ky.-based BSG Financial Group is a group of independently organized companies that provides revenue-enhancement and compliance solutions for financial institutions nationwide. BSG Financial Group has been a provider of innovative overdraft programs since 1999, including the industry's first cloud-based overdraft management solution, Courtesy Connect®/Courtesy Limit™.
 
The company's additional revenue-enhancing solutions include: Fee-Based Packaged Checking Accounts; Digital Lending Solutions; Vendor Management; Account Acquisition Strategies; and Social Media Management.
 
BSG Financial Group includes the following companies: CourtesyCloud Management Solutions, LLC; BSG Financial, LLC; and IQ Development, LLC. For more information about the company, visit http://www.BSGfinancial.com.
 
About R.C. Giltner Services, Inc.
R.C. Giltner provides small business and consumer digital lending technology to financial institutions, and is headquartered in Louisville, KY. For more information, please visit http://www.rcgiltner.com.