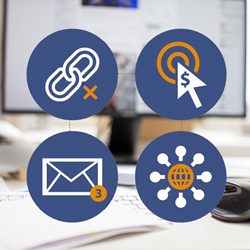 Our expanded content amplification services help get our clients' content in front of the right people at the right time in the digital buyer's journey.
Phoenix, Arizona (PRWEB) June 14, 2017
Vertical Measures, a Phoenix-based Internet marketing agency and a long-time leader in the content marketing space, has expanded their content amplification service offerings to better help their customers' content be found online by a desired target audience.
Arnie Kuenn, Founder and CEO of Vertical Measures remarked: "Many companies who are investing in content creation struggle to produce a positive ROI as quickly as they'd like to, oftentimes giving up too soon. One of the main culprits we've seen is the lack of forethought and strategy around what happens after pressing 'Publish' on a piece of content. This is where our amplification team and services come in: they fill the gap by creating holistic strategies to get our clients' content in front of the right people at the right time in the digital buyer's journey."
According to Content Marketing Institute's annual report, 70% of B2B marketers are planning to create more content in 2017 than they did in 2016. This means that there will be even more competition for the best search rankings, and even higher stakes for getting content seen by the right people.
Having a comprehensive content amplification strategy that includes promotion and distribution and touches prospects at every stage of the purchasing process will be important - if not essential - in 2017 and looking forward. The expanded service offerings by Vertical Measures include:
---Employing paid media and digital PR to drive awareness
---Engaging influencers to build powerful relationships and grow audience reach
---Implementing social media strategies aimed at driving engagement throughout the funnel
---Developing workflows to integrate content marketing and lead nurture efforts
"These new services have three main goals" says Erik Solan, Vertical Measures' Director of Amplified Content, "the first is to create a full-funnel promotion and distribution plan for content that includes owned, earned and paid media. The second is to create a clear line of lead progression between sales and marketing efforts, and the third is to drive increased visibility to the content already being created."
Content amplification services are offered by Vertical Measure to quicken the stride to produce real results with content marketing efforts. Clients will have access to industry experts in paid media, content marketing strategy, and organic amplification methods to ensure their content marketing campaigns are successful all the way from creation to "publish" and beyond.
Learn more about content amplification on Vertical Measures's website: http://vert.ms/contentampservices