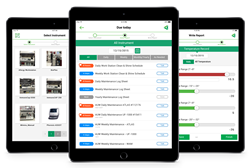 The toolset offered by Xamarin strengthens our end-to-end enterprise mobility offerings and helps our clients realize further benefits from mobilizing their organizations
San Francisco, CA (PRWEB) June 28, 2017
Mobile technology is the driving force behind digital transformation and app developers are at the forefront leading that change. To maximize coding efficiency and to shorten the deployment process for cross-platform apps, enterprise mobility company Kaonsoft utilized Microsoft Visual Studio Tools for Xamarin to rapidly deliver the Laboratory Assured Compliance Solution™ (LACS) to ProMedica laboratories.
ProMedica laboratories, one of only 43 ISO certified labs, treats over 4.7 million patients in the United States. It is a highly automated and complex organization where thousands of biological samples are processed each day. Yet for a modern health system where great advancements on the clinical side had been accomplished, the day-to-day operations within the ProMedica laboratories were surprisingly manual. Logging instrument maintenance and routine quality inspection had remained a mostly paper-based system, burdening lab compliance officers with stacks of binders. LACS™ replaced this outmoded process by offering ProMedica a cutting-edge mobile technology to optimize workflow efficiency, boost productivity and enhance collaboration for improved patient care. In addition, hosting the solution on Microsoft Azure allowed ProMedica to harness the power of trusted cloud services for actionable business insights, increased data protection and secure longitudinal records. It further eliminated document storage and enabled real-time notifications for efficient task completion. Since its implementation in January 2016, LACS™ has led to 100 percent compliance with federal standards, decreased turnaround time for test results and saved over 192 hours in administrative tasks.
Equipping developers with time-saving instruments that are intuitive to use adds value to the enterprise mobilization process. LACS™ is a powerful multiplatform solution that has made a significant impact in the way ProMedica laboratories operate. Its success is a testament to the fact that when developers are able to keep their focus on transforming the overall organization, they will roll out modern apps that are sustainable, robust and dependable. Visual Studio Tools for Xamarin allowed developers to share 85-90 percent of the code across multiple platforms, releasing updates every two weeks. The comprehensive Kaonsoft Enterprise Mobility Platform™ (KEMP) provided the engine necessary to manage and support the apps as well as the conduit to securely integrate into the ProMedica architectural construct. With the flexible hosting options offered by KEMP™, ProMedica was able to further derive benefits from the Microsoft technologies through continuous consumption of multiple Azure services for a fully integrated development environment.
"The toolset offered by Xamarin strengthens our end-to-end enterprise mobility offerings and helps our clients realize further benefits from mobilizing their organization. We are thrilled for this new partnership and we look forward to future opportunities to incorporate mobile technology to transform business practices," said Daniel J. Lee, Co-founder/CEO of Kaonsoft.
The success of LACS™ and its potential to spearhead advancements in healthcare prompted ProMedica and Kaonsoft to establish Kapios Health. This joint venture allows Kapios Health to leverage ProMedica's industry knowledge and Kaonsoft's decade long expertise in enterprise mobility to develop and commercialize sophisticated, field tested mobile solutions to transform patient care. Please visit Kapios Health for more information.
About Kaonsoft, Inc.
Established in 2011, Kaonsoft is a software company that delivers secure mobile strategies to organizations across industries for complete digital transformation. Backed by decades of digital expertise, Kaonsoft provides end-to-end mobility solutions that include an award-winning app development platform, a line of business-specific mobile applications as well as app delivery services. Kaonsoft aims to help clients improve customer experience, increase operational efficiency and optimize top line growth through a successful adoption of enterprise mobility. For more information, visit http://www.kaonsoft.com or connect with Kaonsoft on Facebook, LinkedIn, Twitter, and YouTube.
About ProMedica
ProMedica is a mission-based, not-for-profit healthcare organization serving northwest Ohio and southeast Michigan. The 12-hospital system has more than 16,000 employees, 2,300 physicians with privileges and more than 800 healthcare providers employed by ProMedica Physicians. Driven by its mission to improve health and well-being, ProMedica offers a full range of diagnostic, medical and surgical specialties in areas such as emergency medicine and trauma, behavioral health, cardiology, oncology, orthopedics, neurology and women's and children's services. The health system has been nationally recognized for its advocacy programs and efforts in bringing awareness to hunger as a health issue. For more information about ProMedica, please visit http://www.promedica.org/aboutus.