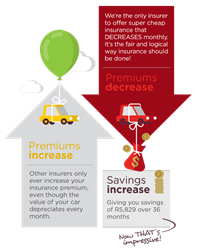 Go with an insurer who reduces your premiums
Pretoria, South Africa (PRWEB) June 13, 2017
Whether you're a property owner, car owner or simply cherish those items that make your house a home, protecting yourself against all those eventualities is important to ensure you'll always sit on your throne.
Protection is designed to give you peace of mind, yet many worry about the protection itself. It is important to ensure that the insured value is correct; if it is too high, you will pay an unnecessary higher premium if the insured value is too low you may be under insured in case of a loss, says Wynand van Vuuren, head of legal and claims at King Price Insurance. Cancelling your insurance might also be short lived, rather find other cost cutters that you can manage to lessen the burden on your wallet but the good news is that there are simple cost-cutters you can manage to lessen the burden on your wallet with immediate effect."
Wynand shares his cost-cutting tips, to add an extra piece of gold to your treasure, without giving up the comfort of knowing that you're insured…
Act with care and precaution
Take the necessary care over your insurable interest to avoid unnecessary small claims that might later result in an increase in premium.
Get the basics right
Update values; remember that the responsibility lies on you to ensure that you keep your insurer up to date with the values of your items. At King Price we automatically reduce your premium monthly as the value of your care depreciates, ensure that your insurer or broker is doing the same for you. The replacement value of your house contents and all risk items will also change from time to time and this should be updated with your insurer. Your building should be insured for what it costs to rebuild the entire building the way it is.
Take care of your insured belongings
One of the things we're taught from a young age is to look after our belongings. The same goes for your insured goods, keep them in good working condition and they are less-likely to leave you in the lurch. Regular maintenance of your car will reduce mechanical failures, while having a home safe can keep your precious and valuable items safe at home.
Bundle it together
We all love getting more for less; bundling your insurance policies together under a single insurer could bring down your monthly premium. For instance, if you insure your chariot (or whatever wheels you use to get around) with king under King Price's comprehensive cover, you can get the same care for your Apple watch, Nikon camera, golf clubs, bike or even your hearing aid for just R1 a month. Add a second or third vehicle on your policy and qualify for a much lower premium.
Go with an insurer who reduces your premiums
With the value of your car depreciating monthly, it makes no sense for your car insurance premiums to stay the same. Get reasonably priced insurance premiums that also decrease monthly. This is a sure way of making certain you pay the best premium.
Insure you can afford your excess, your excess is the first amount payable on each claim, King Price gives you the option to choose this according to your pocket, make sure to save this on the side line for times when an unexpected claim may arise
Start saving on your peace-of-mind without giving any bit of it up with a tad of planning. For more information to keep your life right-side-up this year, visit King Price's website.