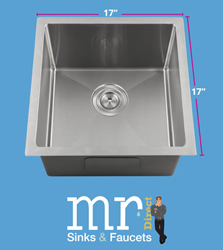 Smartly named the 1717, because of its square dimensions of 17 inches
Toledo, OH (PRWEB) June 15, 2017
The ¾-inch, corner-radius line of stainless steel sinks from MR Direct have grown in popularity each year since they were introduced. Already, this collection of sinks has five models. Soon a sixth is being added; smartly named the 1717, because of its square dimensions of 17 inches.
This new basin is primarily designed as a bar sink for the entertainment area of the home, but it can easily function as a food prep sink in the kitchen, as well. If the main sink in a kitchen is already in the ¾-inch, corner-radius style, the 1717 could be the perfect visual match while it provides an extra work area. Not only is the square design an attractive feature, but its 10½-inch depth is also noteworthy.
A key factor in the appeal of any ¾-inch, corner-radius sink, including the new 1717, is its availability in a choice of three thicknesses. While 18-gauge is already considered a high-quality steel thickness for residential use, MR Direct also offers a 25% thicker, 16-gauge which can add a little more stability to the unit. But MR Direct is also offering all these models in an incredible 14-gauge thickness – 60% thicker than the industry standard 18-gauge. This means industrial-strength steel is now available in the residential kitchen and entertainment sink market; and MR Direct is the first in the industry to offer it.
Although it would be difficult to dent an 18-gauge sink, the chances are even less at 16-gauge, and nearly impossible at 14-gauge. The thicker the steel, the less vibration occurs when the garbage disposal is in use. And, of course, any noise from running water in the sink will be even less noticeable as well.
Constructed of superior 304-grade stainless steel, any of the ¾-inch, corner-radius models will withstand a reasonable amount of abuse. In any thickness, stainless steel lives up to its durability hype. A dropped dish will not chip it; a spilled glass of wine will not stain it; and the foul-odors of debris left in it will not linger. Sound dampening pads attached to the exterior will diminish any noise, and a sprayed-on undercoating prevents condensation. All of the ¾-inch, corner-radius sinks are designed to be mounted in the trending, under-the-counter manner.
Visit the MR Direct website at: http://www.mrdirectint.com/ to review all the specifics about the ¾-inch, corner-radius sinks; as well as the complete MR Direct catalog of premium sinks and faucets.