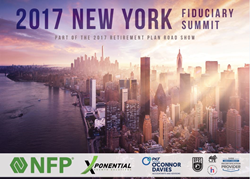 The 2017 New York Fiduciary Summit will give plan sponsors a forum to interact with leading local experts who will share the latest trends, best practices and new definitions of a successful plan.
New York City, New York (PRWEB) August 23, 2017
Xponential Growth Solutions is pleased to announce the 2017 New York Fiduciary Summit. This Summit is part of the national Retirement Plan Road Show, a series of educational workshops that brings together both local and national expertise to interact with employers made up of Finance, Human Resources and Benefits executives, as well as Business Owners, Fiduciaries, and Plan Sponsors. Speakers will provide insights to help employers reduce fiduciary risk, identify plan upgrades, and make better decisions that positively impact participants.
Brian Siano, Director of Retirement Services at NFP Corporate Services, emphasize "The 2017 New York Fiduciary Summit will give plan sponsors a forum to interact with leading local experts who will share the latest trends, best practices and new definitions of a successful plan. The future of retirement plans revolves around having the right plan with the right provider, at the right price, while also helping employees make well-informed investment decisions to be able to retire with financial security."
Brian Siano will lead the discussion on fiduciary topics impacting plan sponsors. Guest speakers include:

Louis F. LiBrandi, Principal at PKF O'Connor Davies LLP
Stephen Machinski, Partner at PKF O'Connor Davies LLP
John Choate, Former NAVY SEAL & Founder of Procinctu Group
More Speakers TBA!
Topics of Discussion:

What Every Fiduciary Needs to Know
Evaluating the Reasonableness of Plan Fees
Convergence of Healthcare & Retirement
Maximizing Participant Outcomes & Building Successful Plan Design
4 SEAL Principles for Optimal Teamwork
Legislative Updates
Ask the Experts - Local & National Professional Panel
RFP & RFI Best Practices
And more!
The 2017 New York Fiduciary Summit will be held at the Union League Club, 38 East 37th Street, New York, NY 10016 from 11:00 AM to 3:00 PM on Thursday, October 19th (lunch will be served). This educational event is approved for 3 hours of CPE/CPA credits, HRCI/SPHR general credits, SHRM Professional Development Credits (PDCs), and is CEBS eligible. Seating is limited and local plan sponsors will receive priority registration. Additional details and registration information can be found on the registration page: http://xgrowthsolutions.com/events/2017-new-york-fiduciary-summit/
About NFP:
At NFP Corp., our solutions and expertise are matched only by our personal commitment to each client's goals. We're a leading insurance broker and consultant that provides employee benefits, property & casualty, retirement, and individual insurance and wealth management solutions through our licensed subsidiaries and affiliates.
NFP has more than 3,400 employees and global capabilities. Our expansive reach gives us access to highly rated insurers, vendors and financial institutions in the industry, while our locally based employees tailor each solution to meet our clients' needs. We've become one of the largest insurance brokerage, consulting and wealth management firms by building enduring relationships with our clients and helping them realize their goals.
Recently NFP was ranked the 2nd fastest-growing U.S. large-group employee benefits brokers by Employee Benefit Adviser. In addition, Business Insurance ranked as the 5th largest global benefits broker by revenue, the 4th largest US-based privately owned broker and the 11th largest broker of US business. PlanSponsor ranked us the 5th largest executive benefits provider of non-qualified deferred compensation by number of plans, and we were ranked 11th in personal lines P&C revenue by Insurance Journal.
For more information, visit NFP.com
About Xponential Growth Solutions:
Xponential Growth Solutions (XGS) unites 401(k), 403(b) and retirement plan sponsors with elite resources and exclusive connections. Through research, fiduciary summits, and industry expertise, they help the nation's retirement plan sponsors, fiduciaries, and trustees evaluate their plan and navigate the retirement plan industry. Working to help America reach their retirement goals one retirement plan at a time, XGS also founded the Retirement Plan Roadshow - a national series of fiduciary educational summits dedicated to human resource, finance and business professionals in charge of America's 401(k), 403(b), and retirement plans.