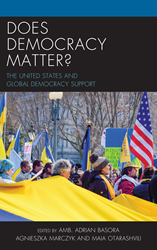 "The publication of this book could not be more timely given the intense debates surrounding the Trump administration's downgrading of US government promotion of democracy abroad..." - FPRI President, Alan Luxenberg
Philadelphia, PA (PRWEB) June 16, 2017
The Foreign Policy Research Institute, in association with Rowman and Littlefield, announces the publication of Does Democracy Matter? The United States and Global Democracy Support. A launch event will be held at the FPRI library at 1528 Walnut Street, Ste. 610, Philadelphia, PA on Monday, June 19, 2017, from 11:00 a.m. to 12:30 p.m. EST.
The launch event is free and open to the public, but reservations are required. To attend the event, please contact the FPRI Events Coordinator Rachel Hemler at 215-732-3774 ext. 112 or at rhemler(at)fpri(dot)org or register here.
"The publication of this book could not be more timely given the intense debates surrounding the Trump administration's downgrading of US government promotion of democracy abroad, plus attempts by Russia and other authoritarian regimes to undermine democratic institutions in the US and globally," said Alan Luxenberg, President of FPRI.
The authoritarian resurgence of the past decade has raised serious questions as to how—or even whether—Washington should continue its long-standing policy of encouraging and in some cases actively fostering the growth of democracy abroad.
This composite volume is the result of an extended dialogue among eleven prominent scholars and practitioners representing widely varying perspectives. While all agree that American strategic interests are better served in the long term by the spread of democracy, some argue that our approach over the past decade has been unrealistic and even, in some cases, counterproductive.
Other contributors believe that, on the contrary, a US failure to support democracy abroad would ignore an existential threat to the very international order that has permitted America to remain secure and prosperous over the past seven decades. They argue that US nurturing of democracy abroad is thus an important tool for advancing our "hard" security and economic interests, and should thus be seen as a means towards those goals rather than a moral crusade.
In its concluding chapter, Does Democracy Matter? proposes a system of triage among countries and regions to determine where and how the US should attempt to foster democracy. The book also suggests ways to deliver democracy assistance more effectively.
FPRI is a non-profit, non-partisan think tank located in Center City Philadelphia. Its mission is to bring the insights of scholarship to bear on the foreign policy and national security challenges facing the United States. It seeks to educate the public, enrich the background of teachers, train students, and offer policy ideas to advance the U.S. national interest based on a nonpartisan, geopolitical perspective that illuminates contemporary international affairs through the lens of history, geography, and culture.
For more information about FPRI, please visit http://www.fpri.org or call Payton Windell at 215-732-3774 ext. 122.