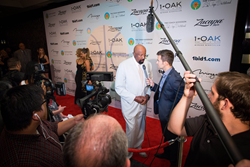 "As coaches, it is our job to help shape the future of basketball, mentoring strong men and women, and helping develop the next generation of young people involved in the game." - Mike Woodson, Assistant Coach, LA Clippers
Las Vegas, NV (PRWEB) June 14, 2017
The 4th Annual Coach Woodson Las Vegas Invitational (#CWLVI), the ultimate golf, basketball and lifestyle weekend hosted by Los Angeles Clippers Assistant Coach Michael Woodson, will take place July 7-9, 2017 in Las Vegas at the iconic Mirage Las Vegas, a MGM Resorts International property. Cox Communications will serve as title sponsor the Woodson Golf Tournament, where guests will enjoy their day at the exquisite Cascata Golf Club.
The VIP weekend will include celebrity guests, sponsors and VIP's, blending basketball, golf, fashion and entertainment in support of local and national charities, including Nations of Coaches, a non-profit dedicated to bringing coaches together to create better players and leaders.
"By bringing coaches together, sharing ideas and building strategies, we can help shape and develop even better players," says Woodson. "As coaches, it is our job to help shape the future of basketball, mentoring strong men and women, and helping develop the next generation of young people involved in the game."
The three-day event will kick off Friday, July 7 with the official Woodson Youth Basketball Experience, an educational clinic where junior participants will receive hands-on coaching experience from the accomplished Woodson and special NBA Legends. Saturday, July 8, will feature The Woodson Gala, Red Carpet & Celebrity Pairings Party at 1OAK, followed by the official #CWLVI Woodson Golf Tournament and "Tea with Terri", the exclusive Women's Clubhouse Experience presented by Jordan Wines on Sunday, July 9 at Cascata Golf Club.
The event is co-hosted by ESPN SportsCenter Anchor, Jay Harris and Professional Golfer and Fashion Designer, Seema Sadekar. The 2016 defending Woodson Invitational Champion is Actor and Personality, Anthony Anderson, who won in a playoff against Former NBA Star Reggie Theus, Actor and Comedian Chris Tucker and Woodson himself. Past celebrity guests included Julius "Dr. J" Erving, Jason Kidd, former MLB Legends, Roger Clemens, Dave Stewart and David Justice, hosts of the hit HGTV show Property Brothers, Jonathan and Drew Scott, former NFL players Jonathan Odgen, Andre Reed, R&B Recording Legend, Jeffrey Osborne, former former NBA players, Larry Johnson, John Starks, Eddie Johnson, Armond Hill, Byron Scott, former Heavyweight Champion Winky Wright, Sportscaster Mike Hill and music icons Tony Cornelius, Jon B, Mya, Brian McKnight and actors: Cedric The Entertainer, Lamon Archey and the late Alan Thicke.
VIP Packages can be tailored to include golf, hospitality, and invitations to the private parties. For information on VIP experiences call PGD Global: 310.926.4075. For more information, visit http://www.CoachWoodsonInvitational.com.
** All Media Inquires & Credential Requests, please reach out to Rachel Rees; Rachel(at)pgdglobal(dot)com; 949-466-8938.
** Local Las Vegas Media Inquiries & Credential Requests, please reach out to Mandi McCary; mandi(at)mmgnv(dot)com; 702-277-7107
ABOUT THE COACH WOODSON INVITATIONAL
The Coach Woodson Las Vegas Invitational (CWLVI) is the only summer golf event in Las Vegas where influential sports figures and celebrities congregate. Founded by the former NBA player and head coach of the Atlanta Hawks and New York Knicks, and current Assistant Coach of the LA Clippers, Mike Woodson, CWLVI is the signature summer event in Las Vegas with the mission to give back to the community through sports, celebrity and friendship. All for a good cause, The Coach Woodson Las Vegas Invitational celebrates the world of basketball, while showcasing the best of golf, fashion and entertainment. For more information, visit http://www.CoachWoodsonInvitational.com, like us on Facebook, http://www.Facebook.com/COACHWOODSONinv or tweet @COACHWOODSONinv.
ABOUT PGD GLOBAL
Play Golf Designs, Inc. (PGD Global) is a golf marketing & event company, directing and participating in luxury events for some of the world's most legendary athletes, brands, entertainers and organizations including Coach Mike Woodson, Julius Erving, Chris Tucker, Jeffrey Osborne, Viacom, The Broadcasters Foundation of America, Diageo and MGM Resorts International. PGD blends pop culture and entertainment, creating the most unique, innovative golf events and experiences for each client. PGD Global focuses on celebrating diversity and inclusion in golf while welcoming women to the game with open arms. Specializing in connecting golf to the modern world of trends and fashion, PGD Global operates golf and lifestyle events and experiences all around the country, welcoming new golfers and businesses to the game. http://pgdglobal.com/. Tweet or Instagram @PGDGlobal or Facebook http://www.facebook.com/PlayGolfDesigns
ABOUT THE MIRAGE (MGM INTERNATIONAL RESORTS)
The Mirage, the hotel that introduced the concept of a destination resort to the Las Vegas Strip in 1989, maintains its preeminent position in what has become an increasingly competitive tourism market. While introducing contemporary amenities designed to retain the resort's leading edge position, The Mirage has sustained the exceptional service standards and serene tropical atmosphere that have distinguished it as a AAA Four Diamond paradise. Tweet @TheMirageLV @MGMResortsIntl