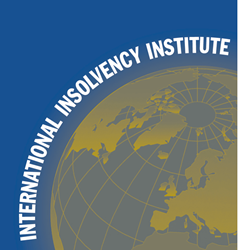 Fairfax, Virginia (PRWEB) June 20, 2017
The International Insolvency Institute (III) held its 17th Annual Conference in London, England from June 18-20, 2017. In addition to providing a distinguished selection of panelists and speakers, who discussed current topics and trends in international insolvency, III also used its annual conference to recognize Outstanding Contributions Award and Founder's Award honorees at a ceremony at Middle Temple. Please join us as we congratulate the 2017 Outstanding Contributions Award honoree Michael Crystal, Q.C. and the 2017 Founder's Award honoree Leonard H. Gilbert.
The III Outstanding Contributions Award honors a person who reflects prominent, distinguished and exceptional service to the field of insolvency and to the insolvency community. Michael Crystal, Q.C., of South Square, London, has been at the forefront of insolvency law for over 40 years. "His energy and vision are extraordinary, if not tiring to keep up with! Through many of the world's leading cases in which he appeared, he created solutions to pressing problems that became standard practice both in England and across the world. Not only is he a Master of the Bench, he is the Master of the English Insolvency Bar," said Mark Phillips, Q.C.
The Founder's Award is bestowed in honor of III founder E. Bruce Leonard (1944-2017) to a member who, through their efforts over the years, has made a substantial contribution to further the goals, mission, and work of the International Insolvency Institute. Leonard H. Gilbert, of Holland & Knight LLP, Tampa, has been recognized during the course of his distinguished career as having exhibited "fairness, integrity, courtesy, zeal, forensic skill, legal acumen, good sense, and respect for fellow lawyers."