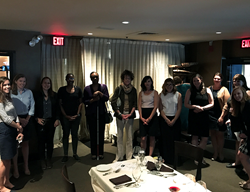 "We're honored to be able to provide funding to these nine organizations in order for them to continue their essential programming and service for our most vulnerable citizens."
Boston, MA (PRWEB) June 20, 2017
At the Junior League of Boston's (JL Boston) year-end board meeting, the organization awarded grant funding totaling $20,000 to nine area non-profit community organizations through its Community Assistance Grants. JL Boston received over 70 applications requesting more than $175,000 in funding from Boston area non-profits with the common mission of improving the health and wellness of women and children in the Greater Boston area. Winning organizations were chosen based on their alignment with JL Boston's own mission and vision of improving communities through the effective action and leadership of trained volunteers.
"Since 1906 the Junior League of Boston has been collaborating with and supporting other local organizations to improve the lives of women and children," said Pamela Lynch, JL Boston President. "We're honored to be able to provide funding to these nine organizations in order for them to continue their essential programming and service for our most vulnerable citizens."
The Community Assistance Grant awardees follow:
Community Servings: $2,500.00
Mission: To help individuals and families living with critical and chronic illnesses maintain their health and dignity and preserve the integrity of their families through free, made-from-scratch, home-delivered meals, nutrition education, and other community programs.
Funding Purpose: To provide 1,000 medically tailored meals to 550 low-income women, their dependent children and caregivers living in Boston who are affected by critical illnesses.
Esperanza Academy: $2,500.00
Mission: To empower and prepare girls to meet challenges with courage, integrity and respect and to inspire students to become active learners and responsible global citizens.
Funding Purpose: To support Esperanza's Wellness Program that adopts a holistic and multidisciplinary approach to incorporating physical fitness and health education into each school day.
Jeremiah Program: $2,500.00
Mission: To transform families from poverty to prosperity.
Funding Purpose: Provide 25 low-income single mothers with 34 life skills workshops in 2017. These workshops are designed to increase knowledge and application of financial, communication, parenting, and empowerment tools and to improve family capacity to transform from poverty to prosperity.
Our Space Our Place: $2,500.00
Mission: To prepare blind youth for their future as productive and successful adults by promoting their self-confidence, determination and social and independent living skills through activities which support self-exploration, social integration and the investigation of college and career opportunities.
Funding Purpose: To support a workshop and two follow-up sessions for blind middle and high school girls.
Rise Above Foundation: $2,500.00
Mission: To provide enriching activities, opportunities and experiences to Massachusetts youth in foster care.
Funding Purpose: Funds will provide enriching activities and experiences to Greater Boston foster youth.
Shooting Touch: $2,500.00
Mission: Using the power of basketball to educate and empower at-risk youth and the communities in which they live.
Funding Purpose: The Getting Girls in the Game program (G3) uses the power of sport as a tool to face social issues by turning the basketball court into a classroom. These courts provide young girls with a safe, community space where they can get moving and gain real-world skills.
Sociedad Latina: $1,250.00
Mission: To create the next generation of Latino leaders who are confident, competent, self-sustaining and proud of their cultural heritage.
Funding Purpose: Offer college and career mentoring specifically for young Latinas.
Sportmen's Tennis & Enrichment Center: $1,250.00
Mission: Build leaders on the court and in the classroom in the community by providing academic, wellness and social development programs alongside recreational and competitive tennis instruction.
Funding Purpose: Funds will be used to incorporate an art program into Sportmen's summer programming.
Tutoring Plus of Cambridge: $1,250.00
Mission: To support and encourage the academic, personal and social growth of children and youth with the help of volunteers and community partners.
Funding Purpose: To support the Girls' Media program, a 10-week program for middle school girls to explore identity, healthy relationships, media representations of gender and race, and more.
For more information or to apply for the 2017-2018 round of funding please visit https://www.jlboston.org/community/community-assistance-grant/
To donate to JL Boston, to help expand our impact please visit
https://www.jlboston.org/individual-donors/
About Junior League of Boston
The Junior League of Boston, Inc. is an organization of women committed to promoting voluntarism, developing the potential of women and improving communities through the effective action and leadership of trained volunteers. Its purpose is exclusively educational and charitable.