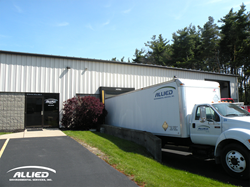 There are no harder-working or more dedicated environmental professionals in our industry than the Allied crews. I'm very proud of what we accomplished in our first year
Buffalo, NY (PRWEB) June 16, 2017
Founded in 1987, Allied Environmental Services (Allied) has excelled by providing a diverse range of environmental field services and industrial maintenance services to a broad client base. For over three decades, Allied has successfully grown its customer base and expanded its service offerings throughout Ohio, Kentucky, southern Michigan, eastern Indiana, western Pennsylvania and New York State. It is this controlled growth and long-term stability that prompted the firm to open a full-service branch location in the Buffalo suburb of West Seneca in 2016.
According to Allied CEO, Steve Carr, the Buffalo branch location was opened to better serve existing clients in the region, and to broaden the company's reach by pursuing new markets geographically. "There is always risk in expanding into new geographies", Carr stated, "but we have a strong and stable customer base, and established connections to the Buffalo area, so we decided to take an aggressive approach. I'm very pleased to say that the Allied Buffalo branch had a very successful first year, exceeding expectations. Our goals and expectations for 2017 are very high", Carr added.
The Allied Buffalo branch office is staffed by local industry veterans, led by Branch Manager Linda Grimmer. Grimmer, a Buffalo native and former Manager of NRC/OP-TECH, draws from over 25 years of experience designing and managing environmental remediation, spill response, and industrial maintenance projects. "As a start-up branch, we took an aggressive approach our first year and put in a lot of effort and hours to make the Buffalo office successful", stated Grimmer. "We concentrated on providing efficient and responsive service with exceptional quality, while controlling cost. I give all credit to our field crews. There are no harder-working or more dedicated environmental professionals in our industry than the Allied crews", Grimmer stated. "I'm very proud of what we accomplished in our first year", she added.
Allied plans to continue growing the service capabilities and equipment resources of the Buffalo branch office through 2017.
About Allied Environmental Services
Allied Environmental Services (Allied) is an environmental contracting firm headquartered in Lima, Ohio, with a branch office in Buffalo, New York. Now celebrating its 30th year in business, Allied has provided professional environmental and industrial maintenance services to private industry, government and military facilities, municipalities, schools, and hospitals. Allied specializes in industrial cleaning (vac-truck and hydroblasting services), pipeline services, storage tank maintenance, hazardous materials management, emergency spill response, hydro-excavating, pond sediment removal, asbestos abatement, underground storage tank closure, contaminant remediation and industrial hygiene services.
For more information please visit Allied's website at http://www.alliedesi.com, or contact the main office at (800) 992-5781.