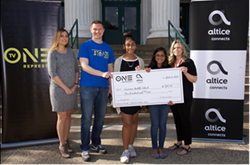 Washington, D.C. (PRWEB) June 15, 2017
TV One is building on nationwide efforts to promote science, technology, engineering, arts and math (STEAM) among youth by launching its "Lights, Camera, Career" curriculum to schools nationwide. TV One STEAM integrates the arts into the more widely recognized national efforts aimed at increasing minority representation in science, technology, engineering and math (STEM) by exposing youth to the varied aspects of the entertainment industry.
As part of the program's launch, TV One partnered with Altice USA, the broadband and video service provider that delivers Optimum and Suddenlink-branded services in the U.S., through the company's Altice Connects community initiative on the "A World Without" STEAM video essay contest, which was announced in February as part of Black History Month. The contest encouraged students in grades 7-12 to create a one-minute video entry with their teachers in the classroom identifying an African American, past or present, who has made a positive difference or significant accomplishment.
The top three winning entries were awarded to the following middle and high schools in New York and Louisiana:
First prize: ICAHN Charter 4 School, Bronx N.Y. –$1000;
Second Prize: Washington-Marion High School, Lake Charles La. – $750
Third Prize: Lawrence Middle School, Lawrence, N.Y. – $500
A special ceremony was held for the winners at Washington-Marion High School on May 22, and at Lawrence Middle School on June 9. The ceremony for ICAHN School will be held later this month. Their winning entries can be viewed at http://www.tvonesteam.com/alticecontest.
The project-based curriculum, designed for students in grades 7-12, offers production-related lessons tied to News One Now, TV One's morning news show, hosted by award-winning journalist Roland S. Martin. TV One STEAM provides an innovative platform for engaging students by demonstrating the interconnectedness of science and art in the media and entertainment industry. The highly-developed "Lights, Camera, Career" curriculum aligns with many state and federal educational standards and aims not only to engage students, but impact communities. TV One STEAM is a part of a larger community investment effort inherent in TV One's business and corporate responsibility strategy.
"Lights, Camera, Career" immerses students in a unique dissection of the anatomy of a news production and the exploration of digital and media literacy," said Michelle Rice, executive vice president of Content Distribution & Marketing for TV One. "Through TV One STEAM, we are guiding students through an exploration that unearths the technical, engineering and analytical efforts that go into every facet of television production. From sound, lighting, digital mastering and computer programming — there are a number of opportunities and roles that we encourage students to examine while offering them tools intended to spark creativity and ambition. As a network, we recognize the value of investing in our students while creating a new opportunity to deliver authentic connections with and between our audience, community partners and our distributors," said Rice.
For more information about the project, visit http://www.TVOneSTEAM.com.
###
ABOUT TV ONE:
Launched in January 2004, TV One serves 59 million households, offering a broad range of real-life and entertainment-focused original programming, classic series, movies and music designed to entertain and inform a diverse audience of adult black viewers. The network represents the best in black culture and entertainment with fan favorite shows Unsung, Rickey Smiley For Real, Fatal Attraction, The Manns and The NAACP Image Awards. In addition, TV One is the cable home of blockbuster drama Empire, and News One Now, the only live daily news program dedicated to black viewers. In December 2008, the company launched TV One High Def, which now serves 14 million households. TV One is solely owned by Urban One, Inc., formerly known as Radio One, Inc. [NASDAQ: UONE and UONEK, http://www.urban1.com , the largest African-American owned multi-media company primarily targeting Black and urban audiences.
TV One Media Contact:
Erin Williams, erwilliamscw(at)tvone.tv or (301) 755-2865