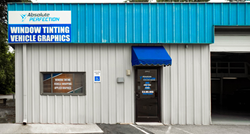 "It's truly exciting to be operating in North Carolina, especially in the Wilmington market, The community is just fantastic and the people down here are just so amazing."- CEO, Bill Valway
Wilmington, NC (PRWEB) June 15, 2017
Today, Absolute Perfection Window Tinting and Graphics, an automotive, residential and commercial company spreads their branches to Wilmington, North Carolina. Having gained immense success in the Maryland, DC and Virginia markets, CEO, Bill Valway did adequate research and found that North Carolina was the perfect fit for expanding his business ventures. North Carolina has a flourishing community and Absolute Perfection Window Tinting and Graphics wants to take ownership of positively continuing to shape the community. The company ensures a product that encourages safety with an aesthetically appealing outcome.
This company gained notoriety as they were awarded '2014 Eastman Window Film National Dealer of the Year', and the 'Geico World HQ Window Film Project' just to name a few. They also made the INC 5000 list, a record of America's fastest growing privately held companies for 2 consecutive years. Their team helped gross over 3.1 million dollars in revenue and continues to exponentially grow thanks to the loyal customers. Window tint has the ability to reduce up to 84% of solar heat and save up to 33% on energy by reducing HVAC costs while increasing heat rejection as well as UV ray exposure. This division dedicates its effort into making sure that customers' residential, commercial and automotive assets are aesthetically, ecologically, and comfortingly taken care of. The AP Applied Graphic's division also had the opportunity to sign a multi-million dollar Maryland Transit Administration (MTA) Bus contract to wrap more than 387 buses, thanks to the division's VP Chris Fong who led the bidding process. This was the largest graphics film purchase in 3M's purchase territory within the history of Maryland, D.C., and Virginia.
The Wilmington store was opened on March 1st as the next phase of an 8 year expansion strategy. Stake holders in the company are confident that this organic growth combined with strategic acquisitions will lead them to the ultimate goal of operating nationally with revenues surpassing $50 million. Following careful marketing research this team found Wilmington to be the most beneficial advancement. They have already proudly tackled uplifting the community by working with the Wilmington International Airport, as well as numerous conservation projects for two major school districts. Over the next three years they hope to become the largest window tinting and graphics provider in the state of North Carolina. This company respects and honors the North Carolina community. They have extreme optimism as they prepare to become a national firm that markets all over the U.S, focusing specifically on areas east of Missouri. Their motto rings true to the quality of the service "there's no greater satisfaction than a job well done" and that is an understatement when it comes to the outcome of their products!